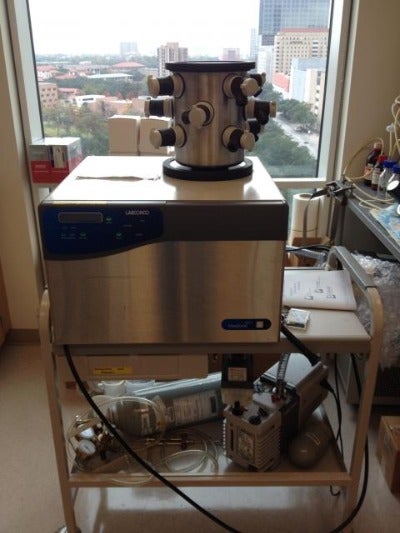 Prep: FreeZone 4.5L Freeze Dry System
PRICING
Rice User Fee: $1/hr
Non-Profit Fee: $1.60/hr
For Profit Fee: $5/hr
Rice Training Fee: $10/session
Non-Profit Training Fee: $15.65/session
For Profit Training Fee: $50/session
CONTACTS
Training Contact:
Harshavardhan Deshmukh (harshavardhan.deshmukh@rice.edu)
DESCRIPTION
The LabConCo FreeZone 4.5 Liter Cascade Benchtop Freeze Dry System is designed for light sample loads with low eutectic points including ones containing acetonitrile. Removes a maximum of over 4 liters of water in 24 hours.* Includes brushed stainless steel and epoxy-coated steel exterior; stainless steel collector chamber and coil; LCD that displays system operating parameters; set-up parameters and alarm messages (choice of temperature in °C and ° F, choice of vacuum in mBar, Pa and Torr); 1/3 hp CFC-free refrigeration system; LED vacuum and temperature wave graphs; moisture sensor; vacuum control/break valve; rear-mounted RS-232 port; automatic start-up switch for collector cool-down and vacuum pull-down with manual override switches; retractable collector drain line; 3/4" OD vacuum connection; 3/4" ID vacuum hose. Features a 12-port stainless steel drying chamber. The rotary vane vacuum pump is protected by a charcoal trap for organic solvents. The 12 port chamber has connections suitable for containers as small as 1 and 2 ml ampules, and as large as 1200 ml containers. There are plenty of containers of various sizes available.
* The stated capacity rating represents the maximum achievable and is based on freeze drying plain water under ideal conditions. Individual results will vary depending on application and, in most cases, be less than the stated maximum. The FreeZone Plus Cascade Freeze Dry Systems have dual refrigeration systems that reach -84° C (-119° F) for samples with low eutectic points including ones containing acetonitrile.