Body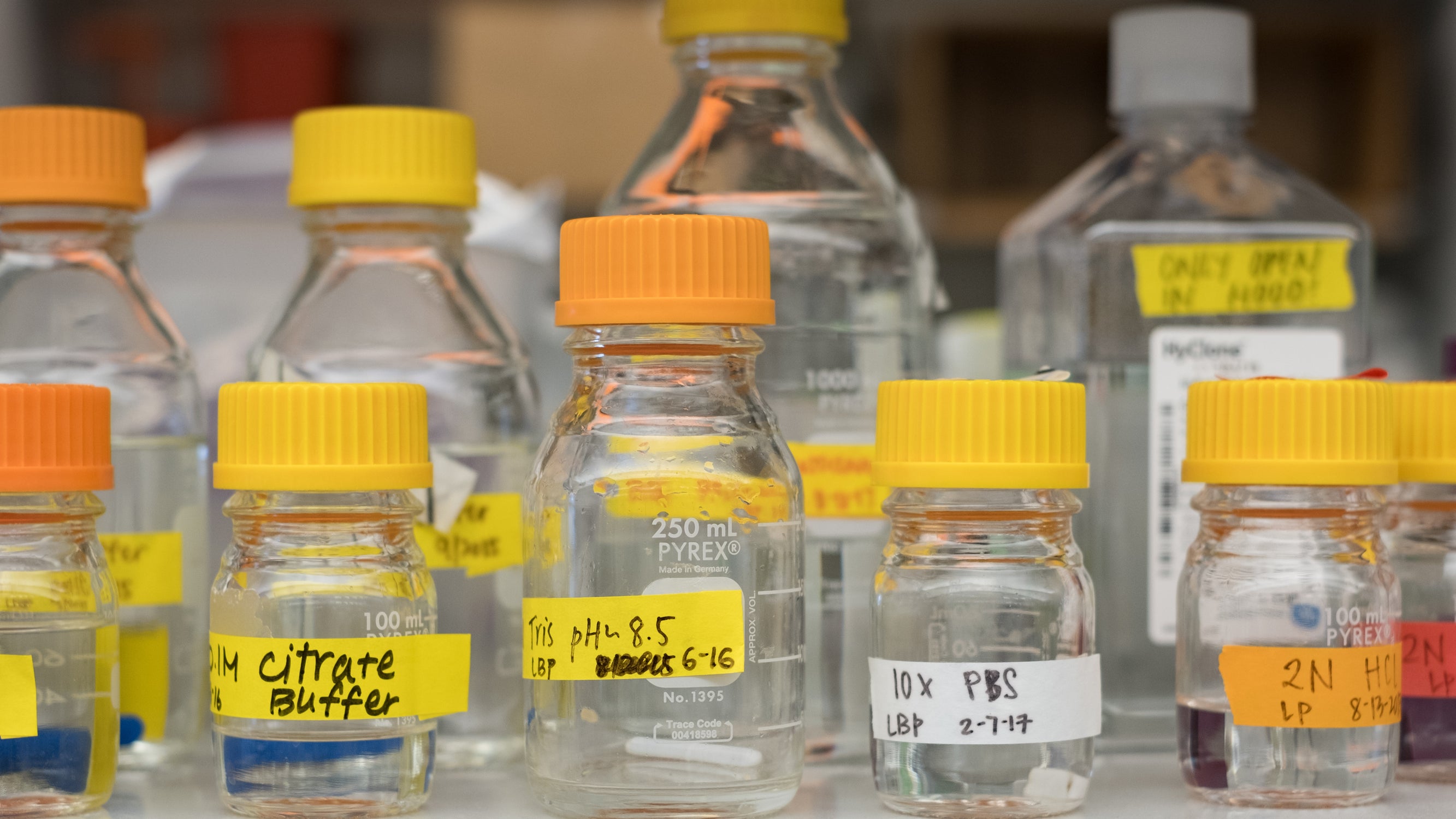 Revenue Distributions at Rice University
Distributions are made in accordance with Rice University IP Policy and in the order that the revenue was received by the Office of Technology Transfer only if both of the following conditions are met:
This exceprt has been taken directly from the Rice University IP Policy. To view the full policy please click here. Click anywhere to close this window.
"...

I. Revenue Distribution

General
In those instances where Rice University licenses its rights in Intellectual Property to third parties, the full cost of such licensing activities, including, but not limited to, the prosecution and legal costs of obtaining an issued patent or other intellectual property protection, must first be captured from any royalties or other license payments received by Rice University before any further income distribution can be made. Additionally, Rice University may retain a portion of the royalty and other income/consideration received from such a license in order to meet known future or expected expense obligations. In the majority of cases, the remainder of any such income (including, but not limited to, license fees, prepaid royalties, minimum royalties, running royalties, milestone payments, and sublicense payments, etc.) shall be divided as follows:



37.5% will be distributed to the inventors/creators;
18.5% will be retained by Rice University for use in supporting innovation;
14% will be provided to the inventors'/creators' sponsoring department or organizational unit; and
30% will be retained by Rice University.



In general, OTT will distribute the license income in accordance with this Intellectual Property Policy within a reasonable period of time after receipt thereof but no less frequently than one time per year; with each such distribution, OTT will include a summary of the total income received and the manner in which such income was, or will be, distributed. In the event that no such income distribution is to be made, the inventors/creators will be provided a summary of any license revenue received and/or retained by Rice University for that year.
Tangible-By-Products of Research
In such instances where the license agreement enables the transfer of tangible by-products of research ("Tangible By-Products of Research") for monetary consideration, 100% of any such income or consideration received will be distributed to the generating laboratory up to a cumulative $15,000 in any given fiscal year; thereafter, 75% of such income will go to the generating laboratory, with the remaining 25% being retained by Rice University. For the purposes of this Intellectual Property Policy, a Tangible By-Product of Research is defined as any fixed and finite quantity of material that is (i) generated by Rice University research; and (ii) not covered by an issued patent or patent application assigned to Rice University; and (iii) not capable of self-replication. Examples of Tangible By-Products of Research include, but are not limited to, finite quantities of purified proteins or enzymes, cell-free extracts, monoclonal antibodies, and polyclonal antibodies. Tangible By-Products of Research do not include software, proprietary methodologies, reproducible expression vectors (including cloned genes), hybridoma cell lines, and/or transgenic animals.
Revenue Sharing Agreements
Income received from the licensing of Rice University Intellectual Property shall be distributed to the inventor(s) or creator(s) of such Rice University Intellectual Property in accordance with this Section V.B.3.c. If such Rice University Intellectual Property has more than one inventor or creator, such income shall be divided and shared among the inventors or creators in accordance with an explicit written agreement executed by all of the inventors or creators of the licensed Rice University Intellectual Property ("Revenue Sharing Agreement"). Each Revenue Sharing Agreement should clearly state how the income is to be distributed among the inventors or creators in terms of percentages or other similar means. A Revenue Sharing Agreement may be changed at any time with the written consent of all named inventors or creators who executed the original Revenue Sharing Agreement. Disagreements involving Revenue Sharing Agreements will be reviewed and resolved by OTT. Any resolution proposed by OTT may be appealed by seeking the input of the VPR. The decision of the VPR may be appealed to the Provost; in cases of such an appeal, the decision of the Provost shall be final.

"
1.) 100% of out-of-pocket expenses associated with the protection and exploitation of the patent/software must have been recovered to the University (including fees associated with patent filing, copyright registration, continuing costs associated with licensing and commercialization of the intellectual property)
AND
2.) A Revenue Sharing Agreement (RSA) signed by all inventors has been submitted to the Office of Technology Transfer. The agreement sets forth how the revenues should be allocated among technologies (when more than one technology is licensed) and subsequently by inventor. It is important that the distribution is equitable and transparent – all inventors must be in agreement. The university is not a party to the RSA and the agreement should be determined and executed separately by the inventors.

Examples of multi-technology RSAs can be found here (RSA Sample w/o Tech Breakdown)/(RSA Sample w/ Tech Breakdown), but such agreement must include the following components:
Technology List – The specific technology or set of technologies subject to the terms of the RSA. Reference should include the Rice University Technology number ("Rice Tech ID"). In some circumstances, the technology list may be supplemented by describing how revenues from a single license transaction will be divided by identifying the appropriate licensed product.

Statement of Intent – The RSA should make a simple statement of the intent to share revenues generated through the licensing of the technology or technologies according to the specific instructions.

Disbursement Instructions – This portion of the agreement describes how the inventor share of revenues should be divided between the Rice inventors. Typically, percentages are used to describe how revenues should be divided. The inventors included in the disbursement plan must be recognized Rice University inventors of the technology or technologies.

Execution – The RSA should be signed and dated by all Rice University inventors listed on the licensed patents.
It is the responsibility of the inventor to provide updates to OTT when there are changes to their contact information or distribution status.
If an inventor wishes to waive his/her rights to a personal share of any revenues, this intent should be communicated to our office in a separate letter.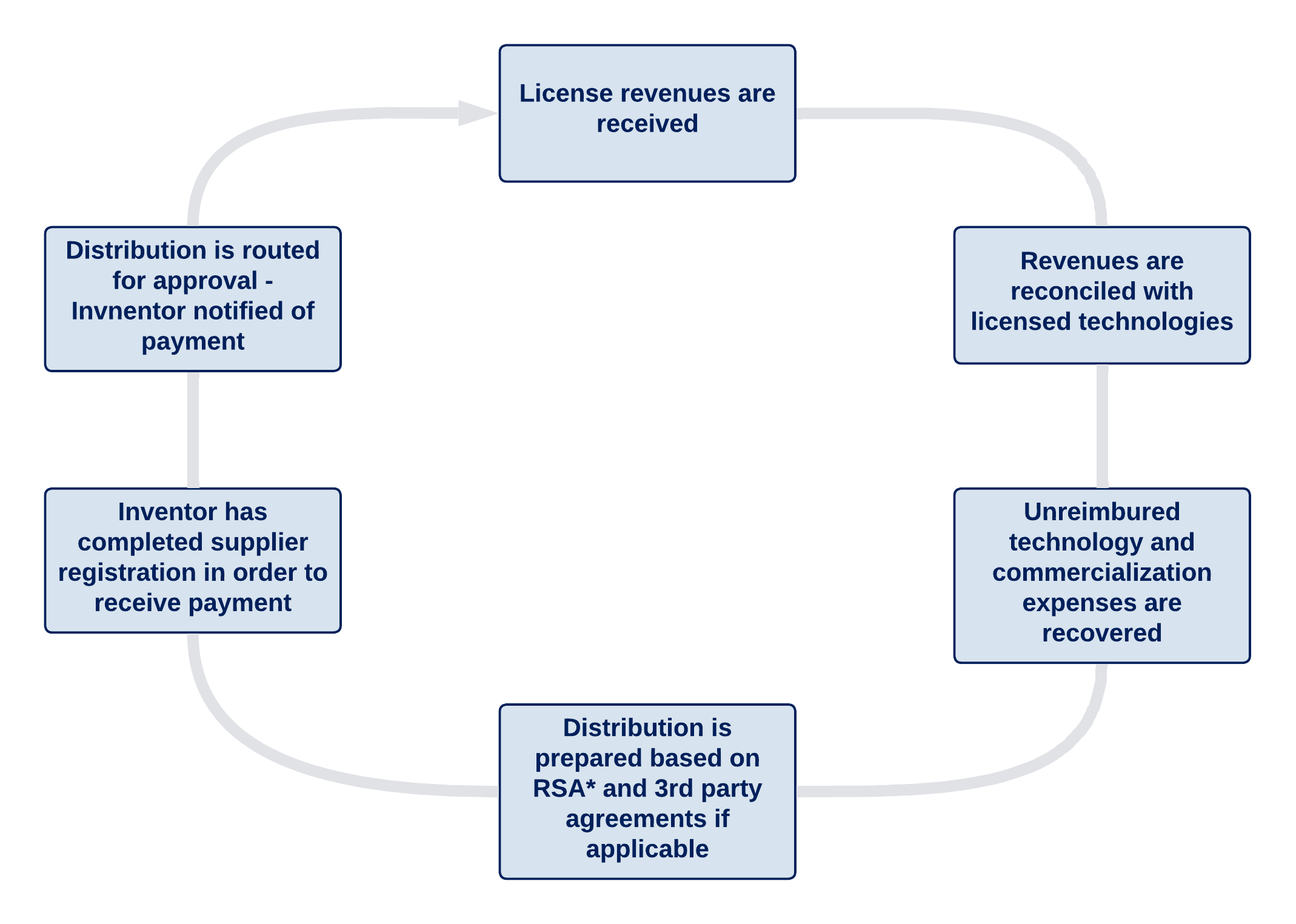 Revenue Sharing Agreement (RSA) must be on file in order for the distribution to proceed past this stage.
Questions related to the disbursement status of any Rice license can be directed to ottfinance@rice.edu.