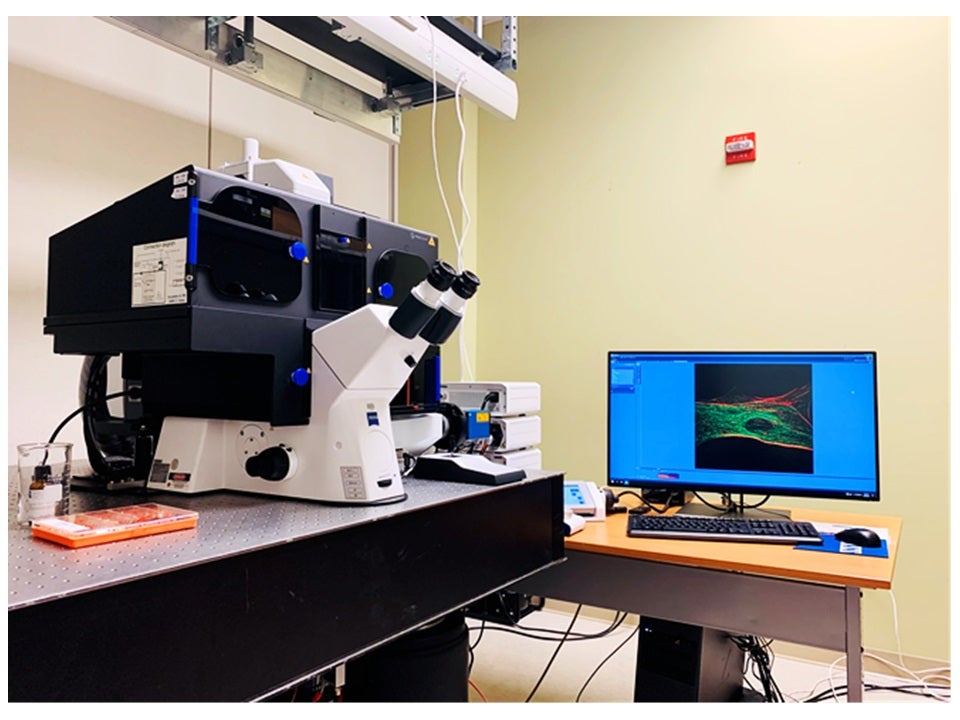 Microscope: Zeiss Elyra 7 (SIM2 upgraded) Lattice SIM
Wide field based super resolution scope
PRICING
Rice User Fee: $35/hr
Non-Profit Fee: $54.75/hr
For Profit Fee: $175/hr
Rice Training Fee: $70/hr
Non-Profit Training Fee: $109.50/hr
For Profit Training Fee: $350/hr
CONTACTS
Training Contact:
A Budi Utama - budiutama@rice.edu
ADDITIONAL INFORMATION
The Zeiss Elyra 7 is a wide-field based super-resolution system that uses a specialized 3D Lattice illumination pattern for 3D structured-illumination (SIM) images. It can reach up to 120 nm lateral and ~300 nm axial resolution yields up to 2-fold improvement in voxel resolution in the X, Y, and Z dimensions. However, a new SIM2 module has recently been updated into our Elyra 7 that allows even higher resolution post-processing image at ~60 nm lateral and ~200 nm axial resolution.
The Lattice SIM illumination allows a better signal to noise ratio, faster, gentler and can reach up to 255 fps during time lapse acquisition significantly faster than regular laser scanning confocal. It also allows a deeper imaging of samples up to around 70 um thickness in comparison to 20 um of sample thickness in classic SIM.
SIM is a technology that can be used with standard fluorophores with the same protocol for confocal or regular wide-field fluorescence sample preparations, making it an easily accessible choice for super-resolution results.
Our Zeiss Elyra 7 also allows ApoTome imaging using 40X oil objective and lower. A grid based optical sectioning creates highly contrasted images with resolution comparable to SIM imaging and better than traditional laser scanning confocal. It allows to get lateral resolution ~170 nm and axial resolution ~450 nm. However, with the upgraded SIM2 module, apotome imaging can get lateral resolution down to ~110 nm and axial resolution to ~300 nm. ApoTome imaging is also faster than classic SIM and laser scanning microscopes, allowing for time lapse imaging of faster cellular/tissue dynamics. 
The Zeiss Elyra 7 system is based on Axio Observer 7 (inverted stand) equipped with Incubator XL dark for live-cell imaging with stage-top incubation system. It also has a Motorized Piezo XY scanning stage with Z-Piezo stage insert.
Objectives
-420340-9901-000 EC Plan-Neofluar 10x/0.30 M27
-420650-9902-000 Plan-Apochromat 20x/0.8 M27
-420762-9900-000 Plan-Apochromat 40x/1.4 Oil DIC (UV) VIS-IR
-420782-9900-799 Plan-Apochromat 63x/1.4 Oil DIC M27
-420780-9970-000 Alpha Plan-Apo 63x/1.46 Oil Corr
| | | | | |
| --- | --- | --- | --- | --- |
| MAG | N.A | CORRECTIONS | IMMERSION | W.D. |
| 10X | 0.3 | EC Plan-Neofluar | Air | 5.2 mm |
| 20X | 0.8 | Plan-Apochromat | Air |  0.55 mm |
| 40X | 1.4 | Plan-Apochromat | Oil |  0.13 mm |
| 63X | 1.4 | Plan-Apochromat | Oil | 0.10 mm |
| 63X | 1.46 | Alpha Plan-Apo | Oil | 0.10 mm |
Illumination and Detection
• Lasers: 405 nm (50 mW), 488 nm (100 mW), 561 nm (100 mW), 642 nm (150 mW)
• Two PCO edge sCMOS cameras with 82% QE and Liquid cooling system with
16-bit dynamic range.
Imaging software
-ZEN (black edition) with Lattice SIM/Apotome modules for image capture not networked.
-ZEN Desk for offline storage and analysis workstation. Networked.
Both of workstations are connected by hard-wire to allow instant image processing
Notes:
SIM is only available using the 63X oil and requires closely matching of refractive indices between the immersion oil and the mounting media of the specimen. A series of images are acquired with the illumination pattern in different orientations, giving spatial information that normally would be lost.
There are 15 composite images taken to generate a single 2D Classic SIM super-resolution image. The various illumination patterns require 3 rotations and 5 phase shifts for a total of 15 images in order to reconstruct one super-resolution image.
In Lattice SIM, The various illumination pattern orientations doesn't require rotations and a total of 13 or 15 images is required in order to reconstruct a single 2D Lattice SIM super-resolution image.
ApoTome Imaging is available using 10x, 20x and 40X objectives. There are 5 composite images to generate a single 2D ApoTome image. ApoTome mode is a faster mode that forgoes the illumination pattern rotations, instead using 5 phase shifts to quickly acquire 2-dimensional image and facilitate optical sectioning.
For additional readings about Zeiss Elyra 7 please find these two PDFs below and also included the link for Lattice SIM2 detailed information.
Zeiss - Introduction to Lattice-SIM
Product information for Elyra 7
https://www.zeiss.com/microscopy/us/products/super-resolution/elyra-7.html