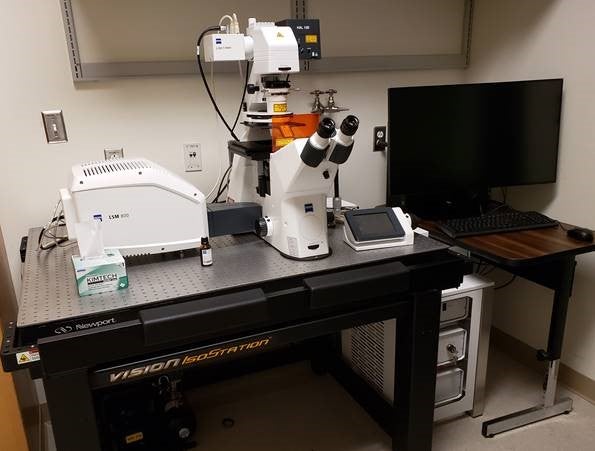 Zeiss LSM800 Airyscan
Microscope that combines laser point-scanning confocal with super resolution
PRICING
Rice User Fee: $35/hr
Non-Profit Fee: $55/hr
For Profit Fee: $175/hr
Rice Training Fee: $70/hr
Non-Profit Training Fee: $110/hr
For Profit Training Fee: $350/hr
CONTACTS
Training Contact:
A Budi Utama - budiutama@rice.edu
DESCRIPTION
This microscope is designed to combine laser point-scanning confocal with super-resolution Airyscan-1 module. The Airyscan-1 super-resolution doubles the resolution up to 120 nm from 240 nm resolution in confocal.
Our Zeiss LSM800 Inverted Confocal and Airyscan super resolution microscope system is based on Axio Observer Z1 MOT.
More specifications include:
4 (four) electronic solid state lasers lines (405, 488, 560 and 640 nm).
2 (two) GaAsP detectors for fluorescence and transmitted/DIC light and 1 (one) 32-channel concentric Airyscan GaAsP detector.
Transmitted light and X-Cite fluorescence Illuminator.
Two galvanometric scanning confocal heads
Motorized Z-stage and manual X/Y-stage.
Master pinhole.
Optics:
Zeiss EC Plan-Neofluar 10x/0.30; ∞/0.17 (Cat# 44 03 30).
Zeiss Plan-Neofluar 20x/0.5; ∞/0.17, WD 2.0 mm,  (Cat# 44 03 40).
Zeiss Plan-Apochromat 40x/0.95 Korr; ∞/0.13-0.21, WD 0.25 mm, (Cat# 420660-9970).   
Zeiss C-Apochromat 63x/1.2 Water Korr UV-VIS-IR, ∞/0.14-0.19, WD 0.28 mm, (Cat# 421787-9970).   
Zeiss Plan-Apochromat 63x/1.4 Oil DIC, WD 0.19 mm, (Cat# 420787-9900-799). Objective of choice for Airyscan super-resolution use.   
Sample holder for slide/dish and 6, 12, 24, and 96 well plates.
Anti-vibration table.
Zeiss ZEN Blue software.
Networked Win10 PC and 24' monitor.
Useful video links for Zeiss LSM800 Airyscan:
https://bitesizebio.com/product_article/zeiss-airyscan-a-brave-new-microscopy-world-with-sharper-confocal-resolution/
https://www.zeiss.com/microscopy/us/local/zen-knowledge-base/lsm-800-900-980.html