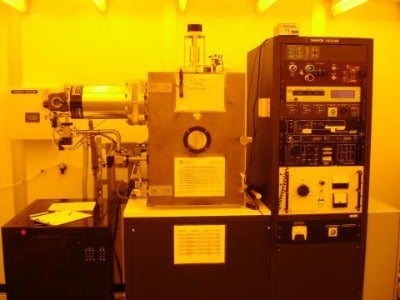 Nanofab Cleanroom: E-beam Evaporator
LOCATION
Cleanroom (Space Science basement 06)
PRICING
Rice User Fee: $10/hr
Non-Profit Fee: $15.65/hr
For Profit Fee: $50/hr
Rice Training Fee: $20/hr
Non-Profit Training Fee: $31.30/hr
For Profit Training Fee: $170/hr
DESCRIPTION
THIS INSTRUMENT IS NOW SCHEDULED EXCLUSIVELY THROUGH FOM: https://fom.rice.edu/fom/
This instrument is used for thin film deposition of materials, primarily metals, along with a few select oxides and semiconductors. It features both a 10kW e-beam primary source and a supplmentary thermal source. Film thicknesses of several nm to a few hundred nm are possible with this instrument. A brief list of pre-approved materials for evaporation is given here:
Al, Al2O3, Ag, Au, Cr, Co, Cu, Fe, Ge, GeAu, Mo, Ni, Pd, Pt, Si, SiO2, Ti
Crucible liner compatibility for these materials can be obtained by consulting the thin film evaporation guide document downloadable from this page. Powder-based source materials are completely incompatible with this instrument if they are not sintered into a solid mass in advance. Users with questions about depositing one of the listed materials or considering processes involving a material not on the list should consult with cleanroom manager Tim Gilheart (gilheart@rice.edu) before proceeding, as not all materials are compatible with this shared instrument.
Due to high demand for time on this instrument and some users' inconsiderate sudden cancellation of times scheduled far in advance, we are now enforcing the following scheduling rules: 
1. Users may only sign up for time starting at 10:00 am, up to two weeks in advance. Weekend time will be available starting on the Friday two weeks before. Regularly scheduled preventative maintenance sessions are exceptions to this rule and will appear on the schedule in advance to allow users to schedule around them.
2. Users may not reserve more than 4 hours per day on the evaporator under normal circumstances; deposition processes requiring exceptions must be approved and scheduled by the SEA staff.
3. Users may not reserve more than 16 total hours per week, running Sunday through Saturday.
4. Appointments made within 48 hours of their use do not count against these totals.
These rules will be enforced by combination of automatic checks by the SEA website and manual efforts by the SEA staff. Repeated attempts to breach these rules will result the user(s) in question losing access. Users with questions about these policies or users whose processes may necessitate an exception should contact cleanroom manager Tim Gilheart (gilheart@rice.edu) to discuss their situation.
More information about the Cleanroom can be found here.