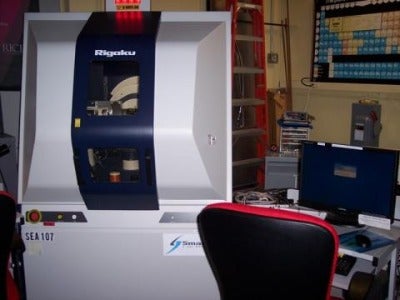 XRD: Rigaku SmartLab XRD
PRICING
Rice User Fee: $13/hr
Non-Profit Fee: $20.35/hr
For Profit Fee: $65/hr
Rice Training Fee: $26/hr
Non-Profit Training Fee: $40.70/hr
For Profit Training Fee: $185/hr
CONTACTS
Training Contact:
Contact Dr. Jianhua Li at Jianhua.Li@rice.edu if you have questions or become ready for operational training. Since this is a multi-purpose XRD system, the length of training is related to the techniques you are interested in. Please discuss with Dr. Li at the time you schedule your training.
DESCRIPTION
Rigaku SmartLab X-ray Diffractometer (SEA#107) is a multi-purpose X-ray diffractometer with a Cu X-ray Tube, a Theta-Theta Goniometer, a Cross-Beam Optics allowing selection of Parallel-Beam Optics or focusing-beam optics, a Scintillation counter, and several data analysis software for different applications. The instrument is best for thin film analysis, and is capable of conducting a variety of characterization, including:  
Reflectivity analysis for thin film thickness (1-150 nm), density, and roughness (0-2 nm). Examples of good films include sputtered films, e-beam deposited films, PLA deposited films, CVD deposited films, MBE films etc.  
Thin film or surface phase analysis using Grazing-incident X-ray diffraction (GIXRD). 
Nano-scale thin film structural analysis using In-Plane X-ray diffraction. Films as thin as 2 nm can be measured. 
Texture and preferred (crystal) orientation analysis through Pole Figure and/or Phi-scan. Samples can be thin films, single crystals, or polycrystalline materials. 
Transmission Small Angle X-ray Scattering (SAXS) for nano-particle/pore size distribution analysis, as well as large d-spacing or periodicity measurement (2- 80 nm). Samples can be powder, suspension, film, or bulk. 
Residual stress analysis for thin films, metals, ceramics etc. 
High-resolution Rocking Curves and Reciprocal Space Mapping for crystals, wafers, and epitaxial thin films. Good for crystal quality evaluation, epi-layer strain and composition analysis. 
Powder phase analysis.    
Available Software for data analysis includes:  
GlobalFit: Reflectivity curve fitting; Rocking curve fitting.  
NanoSolver: Nano-particle/pore size distribution analysis.   
PDXL: Phase identification; Crystallite size and strain analysis; Lattice constant refinement; Residual stress analysis.  
3D Explorer: Pole figure visualization in 3D or 2D; Reciprocal space map visualization in 2D or 3D and in either real space or reciprocal space.   
Basic Operation Training requires two three-hour sessions.  Some XRD methods may require more training than others due to the complexity of instrument configuration.