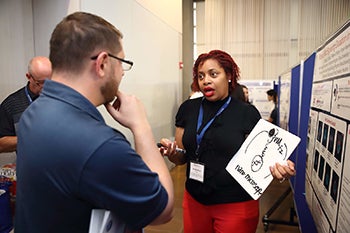 The Engineering Research Symposium for Teachers is an annual symposium open to K-12 teachers, instructional staff, and administrators. The symposium seeks to bridge ongoing research with the K-12 classroom, making STEM research accessible. Current interns taking part in Research Experience for Teachers (RET) present their findings and how their specific projects can be incorporated into the classroom.
The symposium also includes notable guest speakers and workshop sessions to give attendees opportunities to experience K-12 level lessons based on research conducted by RETs during their fellowship.
---
2021 Virtual Engineering Research Symposium for Teachers
The 2021 Engineering Research Symposium for Teachers will occur virtually and is open to K-12 teachers, instructional staff, and administrators interested in bringing engineering research concepts into their schools. Participants will hear from Dr. Angelique Johnson and learn about current RET research projects. There will also be an engineering workshop breakout session during the symposium. Participants will be asked to select which workshop they plan to attend at the time of registration.
This year's symposium will occur on July 30, 2021 from 10 a.m.–1:30 p.m. CT. This event is free to attend, but registration is required. Registration for the event closes on July 24, 2021.
Registration is closed.
Dates and Time

July 30, 2021
10 a.m.–1:30 p.m. CT

This event will take place virtually using Zoom and Gatherly.

Tentative Schedule

10:00 a.m. | Welcome & Guest Speaker Dr. Angelique Johnson
11: 15 a.m. | RET Poster Session
Break
12:30 p.m. | RET Engineering Breakout Sessions
1:15 p.m. | Awards & Closing Remarks

Keynote Speaker

Dr. Angelique Johnson

Dr. Johnson is CEO/founder of MEMStim LLC, a company that produces implantable electronics to treat neurological disorders. With a doctorate in Electrical Engineering from the University of Michigan, her work on microfabricated electrode arrays has resulted in several national and international patents, funding from the NSF and NIH, and a feature on the cover of Hearing Research. As an expert in Lean Startup Methodology, Dr. Johnson has educated several founders on building successful companies. She is an authority on innovation and entrepreneurship.

Dr. Johnson has delivered a congressional briefing on Capitol Hill, served as a speaker for the eighth district of the Federal Reserve, and delivered several international talks. She has been featured on NBC Universal, National Public Radio, The Root news site, Louisville Insider, Business First, and other media outlets.

Passionate about people as well as entrepreneurship, Dr. Johnson has led numerous outreach programs to promote tech careers to underrepresented minorities and women. One such program involved her traveling to Abu Dhabi to increase opportunities in STEM for Middle Eastern and North African Women. Dr. Johnson is CEO/Founder of Vissionaireum, an organization that promotes, trains, and equips underrepresented entrepreneurs.

Workshops

Engineering a Handcrafted Cement Shape
This workshop will show teachers how simple, inexpensive materials such as quick-set cement and plastic signs can be used as a STEM Project. Participants can use the lesson as instructed or use the technique to challenge their students to make an object that is limited by the preparation of the mold and the students' imagination.
Participant Materials needed: graft paper, scissors, glue gun, cellophane tape, quick-set cement and plastic signs

Preventing the Zombie Apocalypse: Making Gene Therapy Safe
This workshop enhances the participants understanding of how scientists are currently using viruses for gene therapy. Participants will learn about viral structures, general morphology, and how viruses attach to their different hosts.
Participant Materials needed: paper, pen/pencil, any arts and crafts materials you might have at home

Building a Slide Maker Challenge with your Students
This workshop will help teachers develop a maker challenge for their students. Participants will come away with an understanding of maker challenges and how they can be incorporated into inquiry-based lessons.
Participant Materials needed: NA
---
Symposium Administration
If you have any questions about the Engineering Research Symposium for Teachers, you may contact the program leads.
Christina Crawford, M.S.Ed.
Associate Director for Science & Engineering
713-348-4761 | cc45@rice.edu
Isaias Cerda
Associate Director for Science Education & English Language Learners
713-348-3197 | ic19@rice.edu
---


This work was supported by NSF awards #EEC1449500 and #EEC1406885. Any opinions, findings, and conclusions or recommendations expressed in this material are those of the authors and do not necessarily reflect the views of the National Science Foundation.