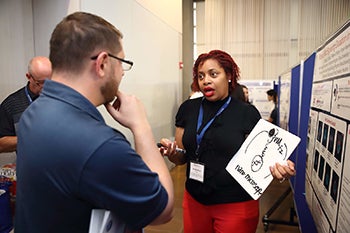 The Engineering Research Symposium for Teachers is an annual symposium open to K-12 teachers, instructional staff, and administrators. The symposium seeks to bridge ongoing research with the K-12 classroom, making STEM research accessible. Current interns taking part in Research Experience for Teachers (RET) present their findings and how their specific projects can be incorporated into the classroom.
The symposium also includes notable guest speakers and workshop sessions to give attendees opportunities to experience K-12 level lessons based on research conducted by RETs during their fellowship.
---
2023 Engineering Research Symposium for Teachers
The 2023 Engineering Research Symposium for Teachers is open to K-12 teachers, instructional staff, and administrators interested in bringing engineering research concepts into their schools. Participants will hear from guest speakers and learn about current RET research projects. There will also be engineering workshop breakout sessions during the symposium. Participants will be asked to select which workshops they plan to attend at the time of registration.
This year's symposium will occur in person, on July 28, 2023 from 9 a.m.–4:00 p.m. This event is free to attend, but registration is required.
Dates and Time

July 22, 2022
9 a.m.–4:00 p.m.
Rice University
6100 Main St.
Houston, TX 77005

This event will take place in person at Rice University.

Tentative Schedule

9:00 a.m. | Welcome & Guest Speaker Dr. Sibani Lisa Biswal
10:00 a.m. | RET Engineering Breakout Session 1
11: 00 a.m. | RET Poster Session
12:15 p.m. | Lunch
1:00 p.m. | Fun with Chemistry Demo
2:00 p.m. | Guest Speaker Dr. Hanyu Zhu
3:00 p.m. | RET Engineering Breakout Session 2
3:45 p.m. | Awards & Closing Remarks

Guest Speakers

Dr. Sibani Lisa Biswal

Dr. Sibani Lisa Biswal is the William M. McCardell Professor in the Department of Chemical and Biomolecular Engineering and Associate Dean for Faculty Development in the George R. Brown School of Engineering at Rice University in Houston, Texas. She has a B.S in chemical engineering from Caltech (1999) and a Ph.D. in chemical engineering from Stanford University (2004). She is the recipient of an ONR Young Investigator Award (2008) and a National Science Foundation CAREER award (2009). She has received the George R. Brown Award for Superior Teaching (2015), the Rice University Alumni Professional Progress Award (2017), and the South Texas Section American Institute of Chemical Engineers Best Applied Paper Award (2018). She was selected as a 2020 Fellow in Drexel University's Executive Leadership in Academic Technology, Engineering, and Science (ELATES) program. She leads the Soft Matter Engineering Laboratory, where she aims to connect a fundamental understanding of the interfacial forces and transport governing soft matter systems to identify new insights and ideas towards engineering new solutions for a variety of critical technological problems. She has published over 120 peer-reviewed articles and advised over 30 doctoral students, 10 postdoctoral fellows, and 50 undergraduate students in research.


Dr. Hanyu Zhu

Dr. Hanyu is an assistant professor of Materials Science and NanoEngineering at Rice University. He earned his B.S. in Mathematics and Physics in Tsinghua University in China, when he got into the field of nanomaterials. He obtained his Ph.D. in Applied Science and Technology in the University of California at Berkeley for studying electromechanics of atomically thin crystals. After the postdoctoral research at Berkeley developing novel optical spectroscopy for atomic oscillations, he started the Emerging Quantum and Ultrafast materials Lab in 2018, with a focus on quantum control of low dimensional nanomaterials, particularly their optical, electronic, and magnetic properties. In 2019 he received the ORAU Ralph E. Powe Junior Faculty Enhancement Award. From 2020 he held jointly appointment in the department of Physics and Astronomy, and became part of the Rice Center for Quantum Materials, as well as the Rice Quantum Initiative.

Workshops

Bacteria Says What
This workshop pushes participants to embrace the micro universe that is all around them in their classrooms. In this hands-on activity, participants will gain an understanding for how the lesson flows and is used with students. The many different learning objectives that can come out of the lesson for students such as lab safety, and the invisible world that is right in front of them.

Build Your Own Aeroponics Device
In this workshop, participants will build their own aeroponics device using the engineering design process. Participants will gain an understanding of growing food in a soilless medium and how to potentially grow your own food on other planets.

GMO Joe: What is gene expression?
In this session, participants will understand how genes are turned on and off, through gene expression. Students will create a GMO Joe to send off to war. I believe that students thrive off of creativity and giving them time to do so will give them critical thinking skills.

Biodegradable Husk-Bags Design Challenge
This activity allows students to engage in design thinking that focuses on engineering a biodegradable bag for potato chips. In doing so, students move through the engineering design process. Students focus on design qualities such as if the bag retains moisture, how the bag is sealed, package aesthetics, and its shelf life.
---
Symposium Administration
If you have any questions about the Engineering Research Symposium for Teachers, you may contact the program leads.
Christina Crawford, M.S.Ed.
Associate Director for Science & Engineering
713-348-4761 | cc45@rice.edu
Isaias Cerda
Associate Director for Science Education & English Language Learners
713-348-3197 | ic19@rice.edu
Mariana Quinn
Associate Director for Science Education
713-348-8266 | mq10@rice.edu
---


This work was supported by NSF awards #EEC1449500 and #EEC1406885. Any opinions, findings, and conclusions or recommendations expressed in this material are those of the authors and do not necessarily reflect the views of the National Science Foundation.