About DCC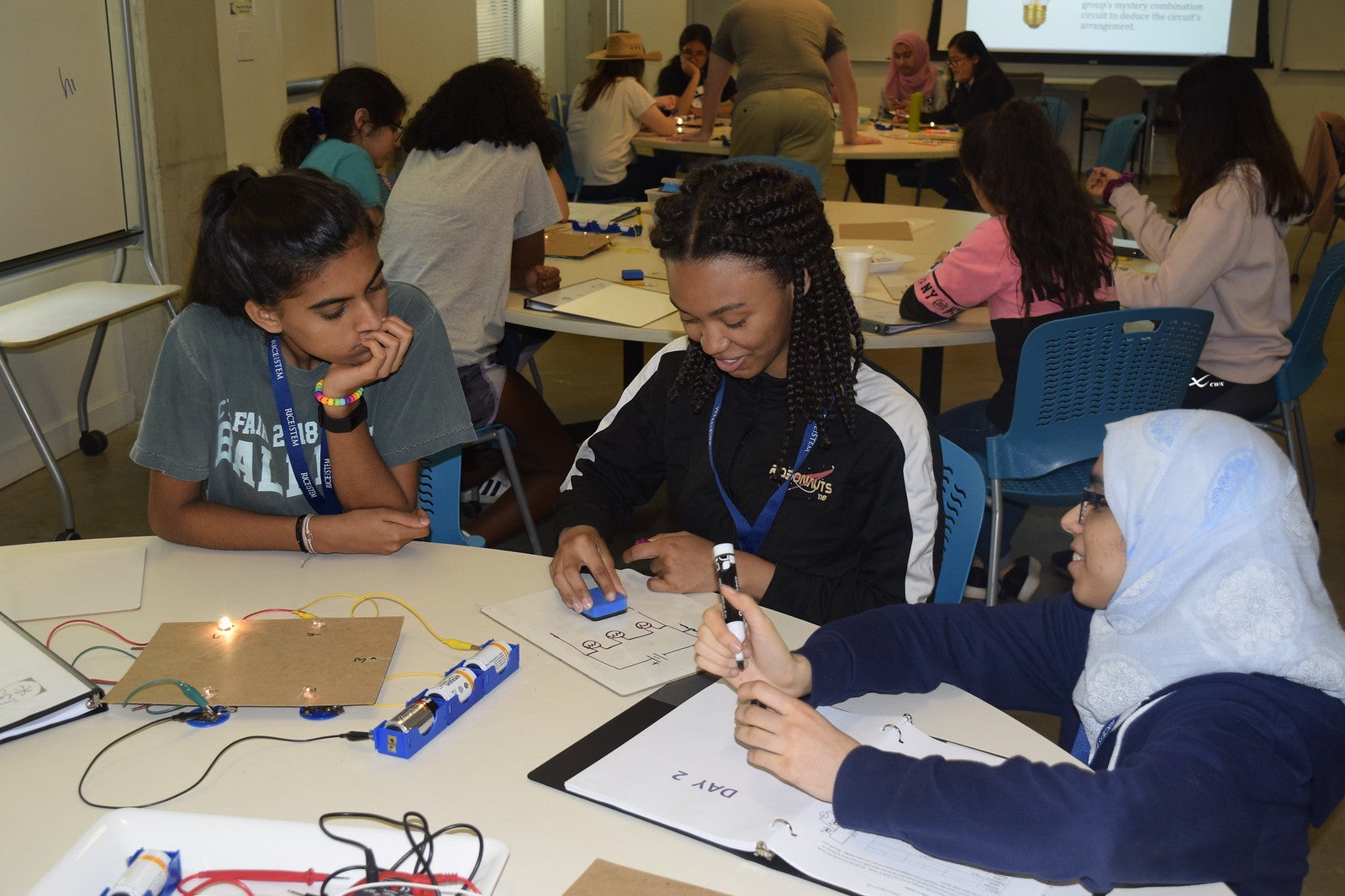 In collaboration with Design Connect Create, the Rice Office of STEM Engagement offers the Houston location of the two-week Design Connect Create Physics Camp for Young Women (DCC) at no cost to 8th–11th grade girls. DCC is an immersive, hands-on experience for students to explore and have fun with physics! Students form a deeper understanding of physics, and build confidence in their knowledge of science to help them be successful in school and as they pursue STEM careers. Labs, guest speakers, interactive problem solving, and engineering challenges will fill the days as students explore classic and modern topics in physics.
In addition to physics-specific content, issues concerning gender equity in engineering, growth mindset, and stereotype threats are also included as awareness activities and discussions. Participants take part in engaging and hands-on activities, hear from inspiring guest speakers, and attend a field trip. Each student will receive a t-shirt, journal, and water bottle and can apply to earn a TI graphing calculator!
R-STEM is proud to host the DCC Physics Camp at Rice University.
You can read more here about the program from Rice University News & Media!
---
Summer 2022 DCC*
AccelerateHER is offered this summer a one-week in-person physics camp for Houston girls. Preference is given to students who attend Houston ISD schools. The camp is offered at no cost to selected participants.
Applications are closed
Applications closed on April 20. More information about this summer's program is available here.
Program Dates


June 20–24, 2022
9 AM - 3 PM
Rice University

Application

Space is very limited, therefore, completing the application process does NOT guarantee placement in the program. Participants must meet the eligibility guidelines set by Design Connect Create.

Program Flyer

Below is copy of the DCC flyer. You can access a PDF version for download here.
---
DCC Administration
If you have any questions about DCC, you can contact the program leads.
Ericka Lawton, M.S.
Associate Director for Educational Leadership and STEM Initiatives
713-348-6274 | esl1@rice.edu
*Program times, dates, locations, and compensation subject to change before the first day of the program.
---