About Inquiry Institute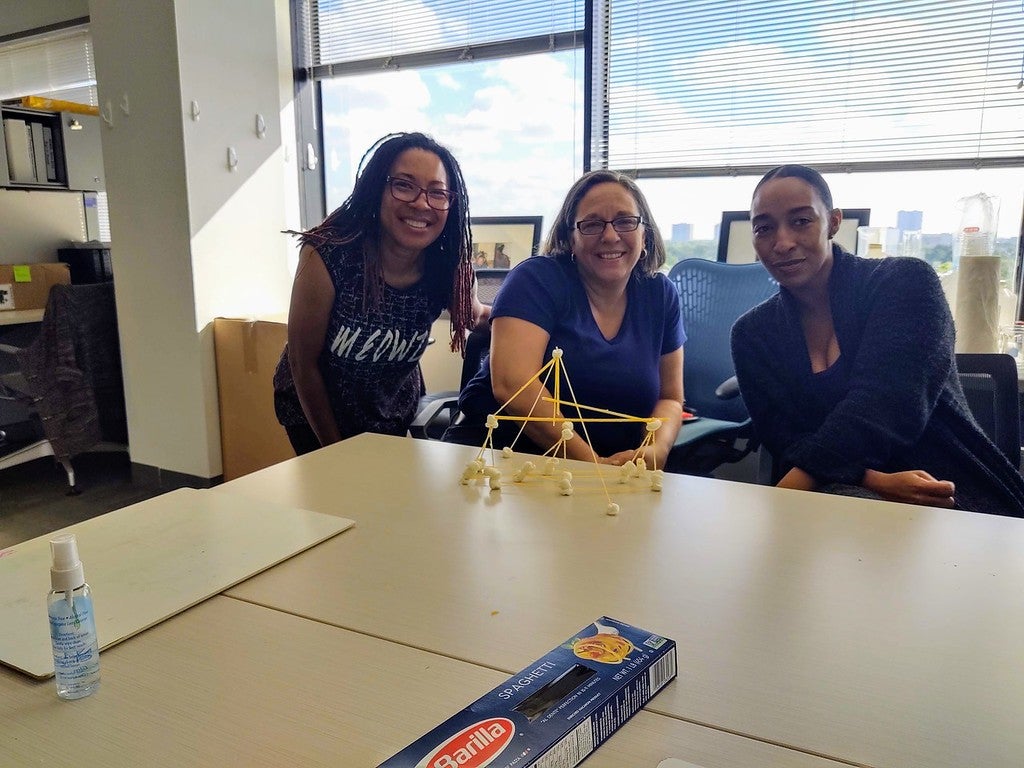 Rice University Inquiry Institute is a 4-day professional development workshop for K-12 teachers and instructional coaches and specialists. Educators of all subjects and grade levels that have an interest in the theory and practice of inquiry-based education are welcome to apply.
Inquiry is an approach to learning that involves exploring the natural or material world in a way that leads to asking questions, making observations, planning investigations to develop explanations, rigorously testing those explanations, and discussing/debating results with others. All of this is in the service of coming to a deeper understanding of phenomena and hands-on practices.
Within this workshop, instructors use hands-on exploration and focused reflection to give participants a thorough grounding in the pedagogy and practice of inquiry. Participants examine different ways of teaching hands-on content, explore the process skills of inquiry, engage in a full inquiry experience, and consider ways to include inquiry in their own classrooms.
---
Summer 2020 Inquiry Institute Program*
Inquiry Institute is offered for a fee of $399.
If you are interested in the program and would like to be notified when applications for next year open, please fill out the following interest form.
Dates and Times

June 23–June 26, 2020
Tuesday–Friday
8:30 a.m.–3:30 p.m.

Rice University
6100 Main Street
Houston, TX 77005

Cancellation Policy

All cancellation requests must be submitted in writing (e-mail or fax) to RSTEM.

A 50% refund will be received if the request is made at least 10 business days prior to the first day of the program.

No refunds will be issued for cancellation requests made less than 10 business days prior to the first day of the program.

Email: stem@rice.edu
Fax: 713-348-3825.

Registration

The cost to attend Inquiry Institute is $399.00 per person. This price includes registration, continental breakfast, lunch, and the cost of materials & supplies.

Payment for all applicants is due by May 8, 2020. This program is subject to a minimum registration.

Space is limited, therefore completing the online registration form does NOT guarantee placement in the program. Acceptance to Inquiry Institute is contingent upon receipt of the registration fee. After hitting submit on the online registration form, you will be redirected to Rice Sign Up for payment.

We will not hold spots for unpaid registrations. Registration is not confirmed until payment has been received.

If you are a school district wishing to pay with a PO, contact Matthew Cushing at mpc3@rice.edu.

Benefits & Expectations

For completing the program requirements, participants will receive:

24 professional development hours;
Hands-on, minds-on activities;
Access to professional reading materials;
Content and pedagogical experiences to bolster your existing skills;
and Networking with other like-minded educational leaders.

Participants will also receive breakfast, lunch, and free parking

Program Flyer

Below is copy of the Inquiry Institute flyer. You can access a PDF version for download here.
---
Inquiry Institute Administration
If you have any questions about Inquiry Institute, you can contact the program lead.
Ericka Lawton, M.S.
Associate Director for Educational Leadership and STEM Initiatives
713-348-4761 | esl1@rice.edu
*Program times, dates, locations, and compensation subject to change before the first day of the program.