Mission

The mission of iRIDE (Introduction to Research and Innovative Design in Engineering) is to increase middle school students' awareness of and interest in the many fields of engineering as a profession and the vital role engineering plays in the development and maintenance of our economy and society.
As the program guides students through the challenges and applications of engineering design, it works to influence students' educational path toward a STEM endorsement in high school and to increase their awareness of and interest in engineering careers.
---
iRIDE Club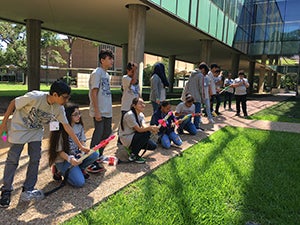 Students stay on their middle school campus for this popular iRIDE program, developed and directed by the Rice University Office of STEM Engagement. Students' interest in engineering is developed through short exercises and presentations during the course of a semester. The goal of the Club is to broaden exposure to Engineering on Middle School campuses and increase the number of students who might continue expanding their interest in the profession.
Participating students engage in bi-weekly, one-hour STEM activities under the co-direction of school and Rice faculty. At the end of that program, interested students are invited to learn more about opportunities to attend the more extensive, iRIDE Academy on the Rice University campus during the summer.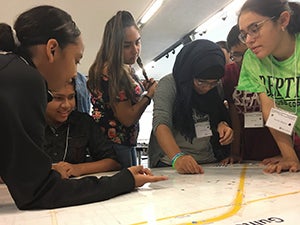 iRIDE Academy
The iRIDE summer program on the Rice University campus is conducted over a two-week period during which students are immersed in engineering objectives, processes and challenges. The culmination of the Academy is completion of a capstone project that addresses real world problems directly affecting them and/or their community. Candidates for the iRIDE Academy are students from one of the iRIDE affiliated Middle Schools and have most likely attended some of the iRIDE Club sessions. In order to attend the Academy, application through one of those Middle Schools is required.
---
iRIDE Club Information

iRIDE is offered at the following schools:

Jane Long Academy
YES Prep Gulfton
Étoile Academy Charter School

The iRIDE Club is a year-long after school program that provides students the opportunity to apply the math and science concepts they are currently studying in short, hands-on projects. The curriculum uses an inquiry style of facilitation to spark an interest in engineering fields through challenging, hands-on projects that are centered on the engineering design process. Students investigate their own questions, plan their experimentation, collect and analyze data, modify and retest. Club projects introduce students to different engineering fields and topics that allow them to explore and better understand the world around them. These engineering fields and topics are unpacked further during the iRIDE Academy. Additionally, professional engineers and current Rice University engineering professors and students make guest visits to each club giving students first-hand knowledge of engineering as a career.

iRIDE is open to all middle school students who are enrolled in one of the listed schools above. Students and parents should contact their school's administration to enroll into the iRIDE Club or to request more information on the iRIDE Academy.

iRIDE Academy Information

The Academy starts with an orientation tour of the campus and an introduction to engineering as a profession. Students engage with challenging engineering projects, hear from engineers and college students about their work and their educational pathway, take tours of engineering research laboratories, and work as a team on various projects.

Through iRIDE, students become familiar with the engineering design accomplishments and learn how engineering impacts our daily lives. Rotating topics highlight diverse engineering fields as the program features projects and guest presenters. For example, the "Get to the Chopper Challenge" taught students how helicopters perform high water rescues during severe flooding. That day, a representative from the Harris County Flood Control District discussed the important work that organization does. iRIDE also welcomed engineers from the other Houston area institutions including NASA and TxDOT. iRIDE will continue engaging with engineers from a variety of fields to discuss with students the methods for inventing 21st Century technology and solving 21st Century problems.

What is Engineering?

Engineering is the creative process of applying math and science to solve both large and small problems and designing products or solutions that improve our quality of life. Everything around you, from complicated products like smart phones to simple things like the chair you're sitting in, one way or another resulted from engineering.

There are many different areas of engineering. Each addresses a special industry or area of our society. Each has a special purpose and education requirements. The Rice School of Engineering offers over 12 areas of study. Their requirements and focuses can be found at https://engineering.rice.edu/academics/departments

Undergraduate and graduate students conduct research in Medicine, Nanotechnology, Energy and the Environment, Artificial Intelligence and Cities of the Future thanks to the resources available at Rice University such as the Oshman Engineering Design Kitchen.

What is Rice University?

First opening its doors in 1912, Rice University is a small, private, four-year institution of higher education located in Houston, Texas. Rice University conducts groundbreaking research, offers unsurpassed teaching, and fosters a collaborative culture that encourages investigators to work across disciplinary boundaries to produce leaders across the spectrum of human endeavor. At the same time Rice's faculty members dedicate themselves to scholarship and research, they also demonstrate a strong commitment to teaching and outreach. Rice's small size—with just over 4,000 undergraduate and nearly 3,500 graduate students—allows its students to participate in innovative research alongside world-class faculty and become actively engaged in the creation of new knowledge and technology with 71% of undergraduates participating in research.

Rice University boasts strong humanities and social science programs in addition to a variety of men and women's sports. Collaborative efforts across interdisciplinary departments result in the numerous programs and activities for K-12 students and teachers each year. Students engage with Rice faculty, staff, and other students while participating in hands-on projects, viewing demonstrations and learning about opportunities in science and engineering.

The iRIDE after school Club and summer Academy are two such programs, offering middle school students education and enrichment in the field of Engineering. Programs are directed by Rice staff and conducted at their schools or on the Rice campus.

For more about Rice visit: https://www.rice.edu/about

Higher Education Opportunities and Resources

In addition to working with engineering processes and challenges, iRIDE students receive important information about setting career goals and identifying opportunities for higher education. A small portion of the program advises students on academic and class requirements to become an engineer or engineering technician and explains education opportunities after high school, including community college and four-year universities such as Rice.

iRIDE Advisory Board

The role of the Advisory Board is to serve as an informal resource to the Rice University iRIDE task force. Specifically:

Serve as a sounding board for the program staff regarding structure and curriculum
Advocate for iRIDE as an ambassador and connector for iRIDE in the community by directly or indirectly facilitating professional or financial support.
Contribute content for use in the iRIDE program related to the profession of engineering with either materials or personal presentations.

Why Engineering? Why STEM?

A competitive economy and a vibrant society require proficiency in technical fields including math, science and engineering. iRIDE is more than just an after-school club or summer program for students. It is actively working to fulfill a growing need within the Houston STEM workforce and beyond. For more on the critical need for programs like iRIDE click here.

Support

Click here for information on how you can support iRiDE and its mission.

Video

Click here to hear from iRIDE participants themselves about the program.

COVID-19 Protocols
Please note: this program is offered through a designated funding source to a targeted audience and is not open to the general public to apply. If you would like to bring iRIDE to your community, please contact R-STEM at stem@rice.edu.
---
iRIDE Administration
If you have any questions about iRIDE, you can contact the program lead.
Roger Ramirez
Assistant Director for Mathematics
713-348-3267 | rr44@rice.edu
---
This program is funded by the generous donation of the Robert L. Cook Fund (Rice 1943) through the Greater Houston Community Foundation.