Mission

The mission of Introduction to Research and Innovative Design in Engineering (iRIDE) is to introduce middle school students from specific Houston communities to the diverse field of engineering. iRIDE guides students through the challenges and applications of engineering design concepts toward completion of a final capstone project. This process works to influence students' educational path toward a STEM endorsement in high school and to increase their awareness and interest in engineering careers.
---
iRIDE Club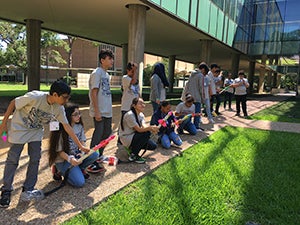 iRIDE is a two-part program that begins with after-school engineering clubs, which are currently offered at three Gulfton area middle school campuses. Starting in the spring semester, participating students engage in bi-weekly, one-hour STEM activities under the co-direction of school and Rice faculty. At the end of that program, interested students are invited to a "Kickoff" program to learn more about the more extensive iRIDE Academy at Rice University.
iRIDE Academy
iRIDE Academy at Rice University is a two-week summer program where students are immersed in engineering objectives, processes and challenges. The culmination of the Academy is completion of a capstone project that addresses real world problems that directly affect them and/or their community.
The Academy starts with an on campus orientation and tour plus an introduction to engineering as a profession. During the program, students engage with challenging engineering projects, hear from engineers about their work and their educational pathway, take tours of engineering research laboratories, and work as a team on a final capstone project.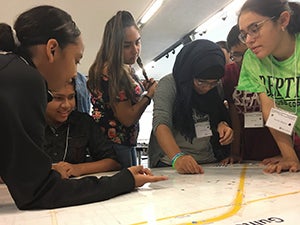 Rotating topics highlight various engineering fields as the program features projects and guest speakers. The "Get to the Chopper Challenge" taught students how helicopters perform high water rescues during severe flooding. That day, Dena Green discussed her work at the Harris County Flood Control District. iRIDE also welcomed engineers from the other Houston area institutions including John Graf from NASA, and Alex Alvarado and Frank Leong from TxDOT. iRIDE will continue engaging with engineers from a variety of fields to discuss with students the methods for solving 21st century problems.
An important aspect to iRIDE is that students use the engineering design process to solve problems in different settings and understand how engineering impacts their daily lives. Students are introduced to how 3D printers are used to solve modern problems. They also explore polymers and learn how plastics are made and used. They study issues that are important to their neighborhood and come up with solutions that could improve their community. In addition to challenges and the capstone project, iRIDE includes time for students to set goals and plan for the future. Students work to identify colleges and universities offering studies of interest and to create a plan of action to achieve their goals.
---
Impacts of COVID-19
As a result of the COVID-19 pandemic, iRIDE switched from its in person model to a virtual program for the summer of 2020. That summer the program focused on computer engineering with the goal of students creating a mobile phone application through the code.org website. Students were placed in virtual groups to collaborate on their mobile application. Instruction was self-paced with facilitators assisting when needed, giving students freedom to create any COVID-19 related application. Check points were scheduled throughout the week and a half to ensure understanding and productivity. The program ended with a showcase of the applications students made in their respective groups. Examples of student created applications included mobile games and educational resources on Covid-19 related safety protocols.
---
Why iRIDE

Support

Video

COVID-19 Protocol
Please note: this program is offered through a designated funding source to a targeted audience and is not open to the general public to apply. If you would like to bring iRIDE to your community, please contact R-STEM at stem@rice.edu.
---
iRIDE Administration
If you have any questions about iRIDE, you can contact the program lead.
Roger Ramirez
Assistant Director for Mathematics
713-348-3267 | rr44@rice.edu
---
This program is funded by the generous donation of the Robert L. Cook Fund (Rice 1943) through the Greater Houston Community Foundation.