About Nano REU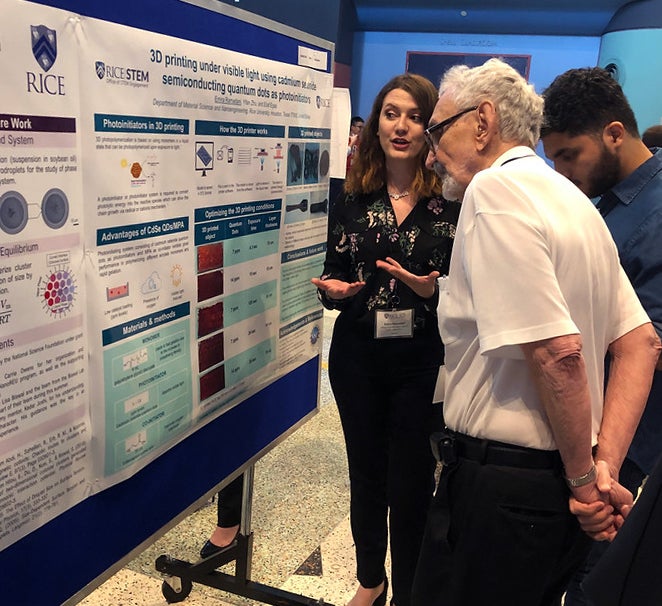 Nano REU is a 10-week internship for community college students to work in Rice University nanotechnology research laboratories. Participants gain hands-on research experience in nanotechnology, one of the most exciting areas of scientific research.
Participants work on independent research projects to be presented at the Smalley-Curl Institute (SCI) Summer Research Colloquium at the end of the summer.
Possible research areas that students can become involved in include:
Synthesis and characterization of new nanomaterials including gold nanoshells, carbon nanotubes, quantum dots, and nanosilver;
The application of nanomaterials in the diagnosis and treatment of diseases;
The application of nanomaterials for environmental cleanup and the implications of nanomaterials on the environment;
The use of nanomaterials to improve the efficiency of alternative energies; and
The development of nanotechnology-enabled water treatment technologies.
​Here are just some of the Rice faculty that will potentially host participants in their labs!
---
2022–2023 Nano REU Program*
Community college students of all majors that are enrolled in Houston, TX area schools are welcome to apply, but preference will be given to STEM majors.**
Applications are closed.
The application deadline was March 1, 2022. All supporting documents, including recommendation contact information, transcripts, and personal statements, were due when you submit your application.
**Must be a U.S. citizen, national, or permanent resident to apply due to our funding agency.
Program Dates

June 2–August 12, 2022
Monday–Friday

Program Structure

Nano REU includes:

A beginning 2-day orientation at Rice University to introduce participants to the program;
Working with assigned graduate student/postdoctoral research mentors on an independent research project;
Weekly meetings to discuss research experience;
Round robin tours of student internship laboratories; and
The SCI Summer Research Colloquium, where participants will present their research.

Applications

Applicants will be notified of their status in April. Space is very limited, therefore, completing the application process and being selected for an interview does NOT guarantee placement in the program. Once final candidates have been selected, all other interviewed applicants may be placed on a wait list.

Community college students of all majors are welcome to apply, but STEM majors will receive priority consideration. Students must be enrolled in a Greater Houston Area college, which includes, but is not limited to, Houston Community College, San Jacinto Community College, Lonestar College, Galveston Community College, College of the Mainland, and Wharton College.

Applicants will be required to submit:

Unofficial transcript of grades from your community college and any other higher education classes you have taken;
A personal statement about why you are applying to the Nano REU program. This statement should be max 1 page in length and will be used to determine selection and lab placement; and
We also require two letters of recommendation from a professor, advisor, or employer, but one letter must be from a STEM professor. Please provide the contact information for your references on your application and we will contact them directly.

If you are unable to upload these documents to your application, you can email them to stem@rice.edu.

Benefits & Expectations

The expectations of Nano REU interns include, but are not limited to:

Working full-time (40 hours/week) in the laboratory for the duration of the internship;
Documenting summer hours and submitting time sheets on time;
Completing a poster on summer research;
Attending and presenting at the SCI Summer Research Colloquium; and
Timely completion and submission of all course assignments and homework.

For completing all program requirements, interns will receive:

10-weeks worth of sustained and supported professional development at Rice University;
$6000 in stipends (spread out over the summer);
Free economy parking at Rice University;
Networking opportunities with fellow students; and
Training and guidance in presenting and delivering scientific poster presentations.

Program Flyer

Below is copy of the Nano REU flyer. You can access a PDF version for download here.
---
Nano REU Administration
If you have any questions about Nano REU, you can contact the program lead.
Jorge Loyo, Ph.D.
NEWT Associate Director of University Education
713-348-8116 | jorge.loyo@rice.edu
*Program times, dates, locations, and compensation subject to change before the first day of the program.
---