About NanoAcademy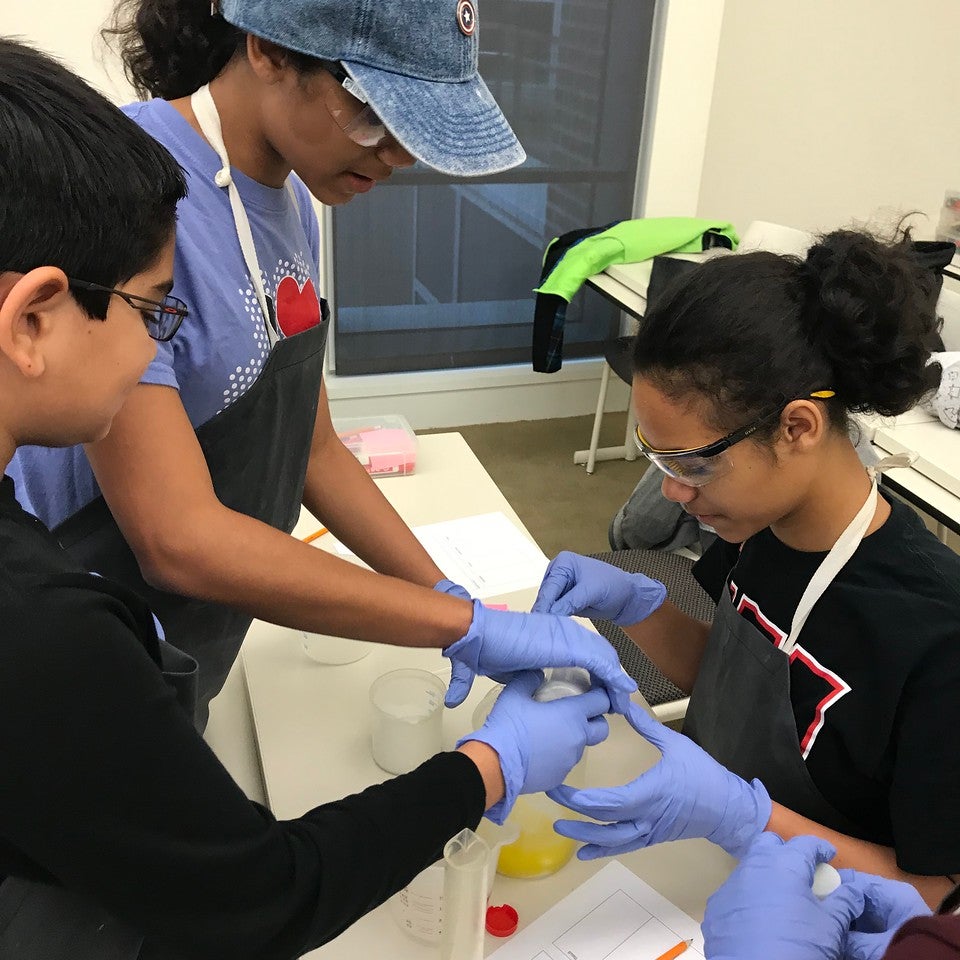 NanoAcademy is a series of one-day workshops for students to participate in STEM lessons designed by experienced teachers inspired by the ongoing research at Rice University, Arizona State University (ASU), and The University of Texas at El Paso (UTEP). The main objective is to provide students with hands-on activities to build their conceptual understanding of Nanotechnology, while simultaneously strengthening their critical and analytical thinking skills in engineering. Career opportunities in STEM Engineering are also included as an additional means of exposure for both students and teachers participating in the academy.
Teacher participants from the Research Experience for Teachers (RET) internships work with graduate students and research scientists in innovative research laboratories to create the NanoAcademy lessons. Lessons are designed to allow students to experience grade-level appropriate lesson activities based on nanotechnology applications.
---
2020 NanoAcademy Program*
Workshop locations include: Highlands High School in San Antonio, TX; Rice University in Houston, TX; ASU in Tempe, AZ; and UTEP in El Paso, TX. Lessons range from 4th-12th grade in level and cover a variety of topics, including water pollution & treatment, alternative forms of medicine, cells and much more!
NanoAcademy is free for students who register online. Students that arrive at the workshop without registering and submitting a signed agreement form will be turned away.
Breakfast will be provided for all students. Students can drive themselves, take public transportation, or be dropped off by parents/guardians. Parents/guardians can park and walk students up, but parking validations will not be provided for parents/guardians or students. Parents/guardians will NOT be allowed into the classrooms with students.
Workshop Locations and Information:
NanoAcademy at Highlands High School

Saturday, February 1, 2020

8:00 a.m.–12:00 p.m. CST
Highlands High School
3118 Elgin Ave., San Antonio, TX 78210

For Grades 6-12:
Power from the Sun
Students design a solar panel array for different residential roofs. They will have to work within a budget and with limited supplies and their goal is to maximize the amount of energy that they can get the sun to produce for them.

NanoAcademy at Rice University

Saturday, February 8, 2020

8:00 a.m.–12:00 p.m. CST
Rice University
6500 Main Street, Houston, TX 77030

For Grades 4-7:
Storage Bag Challenge & Mixed Up Mixtures
Students will analyze the resistance of re-sealable storage bags and create a mixture separation tool kit to aid in the separation of certain properties in mixtures.

For Grades 5-9:
Water Systems & Water Scaling
Students will learn about various forms of watershed pollution then design a system using common food items to break down deposited materials.

For Grades 9-12:
Crystals & Energy
Students will problem solve their way through challenges of salt deposits and think critically to design build generators.

---

Saturday, February 15, 2020

8:00 a.m.–12:00 p.m. CST
Rice University
6500 Main Street, Houston, TX 77030

For Grades 7-9:
Let's Get Cellular!
Students will customize fluorescent dyes to help visualize functions of cells more acutely and understand the growing world of carbon nanotubes impacts on cancer diagnosis.

For Grades 9-10:
Environmentally Sound: From Adhesion to Zapp's (A-Z)
Students will analyze a real-world environmental issue by reengineering the toxicity in plastic and create molecular models of products.

For Grades 9-12:
Resin Prototype Key Chain
Students will use a conventional manufacturing approach to engineering a resin product.

NanoAcademy at ASU

Saturday, February 15, 2020

8:00 a.m.–12:00 p.m. MST
Arizona State University-Tempe Campus
Tempe, AZ 85281

For Grades 5-8:
Bacteria Says What!?
Students will learn how engineers are working to combat bacteria that are rapidly becoming antibiotic resistant and how nanotechnology can potentially be an solution.

For Grades 9-12:
Can Nanosponges Be Dwarf-Sized Healers?
This biomedical maker challenge will introduce students to the fields of biomedical engineering and nanotechnology for the potential to develop novel medical therapeutics.

NanoAcademy at UTEP

Saturday, February 22, 2020

8:00 a.m.–12:00 p.m. MST
The University of Texas at El Paso
500 W University Avenue, El Paso, TX 79968

For Grades 4-5:
The Water Around Us
Students will think critically and build on their prior knowledge to design models of natural sources of water.

For Grades 8-12:
Car Crashes: Side-Impact Safety Features
Students will explore the use of nanomaterials as they design car safety features.

Application

Eligible grade levels vary by activity. Please review the specific location activities and grade level before applying.

Registration for the workshops closes two weeks prior to the workshop dates. Registrants will be notified of their registration status no later than one week prior to the workshop. Space is limited, therefore, completing the registration process does not guarantee placement in the workshops.

Registrants will be required to submit a signed release form with their registration (Highlands High School, Rice, ASU, UTEP). If you are unable to upload the form to your registration, you can: email it to stem@rice.edu; fax it to 713-348-3825; OR mail it to 6100 Main Street, MS-7836, Houston, TX 77005.

Program Flyer

Below is copy of the NanoAcademy flyer. You can access a PDF version for download here.
---
NanoAcademy Administration
If you have any questions about NanoAcademy, you can contact the program lead.
Christina Crawford, M.S.Ed.
Associate Director for Science & Engineering
713-348-4761 | cc45@rice.edu
Isaias Cerda
Associate Director for Science Education & English Language Learners
713-348-3197 | ic19@rice.edu
*Program times, dates, locations, and compensation subject to change before the first day of the program.
---