About REMSL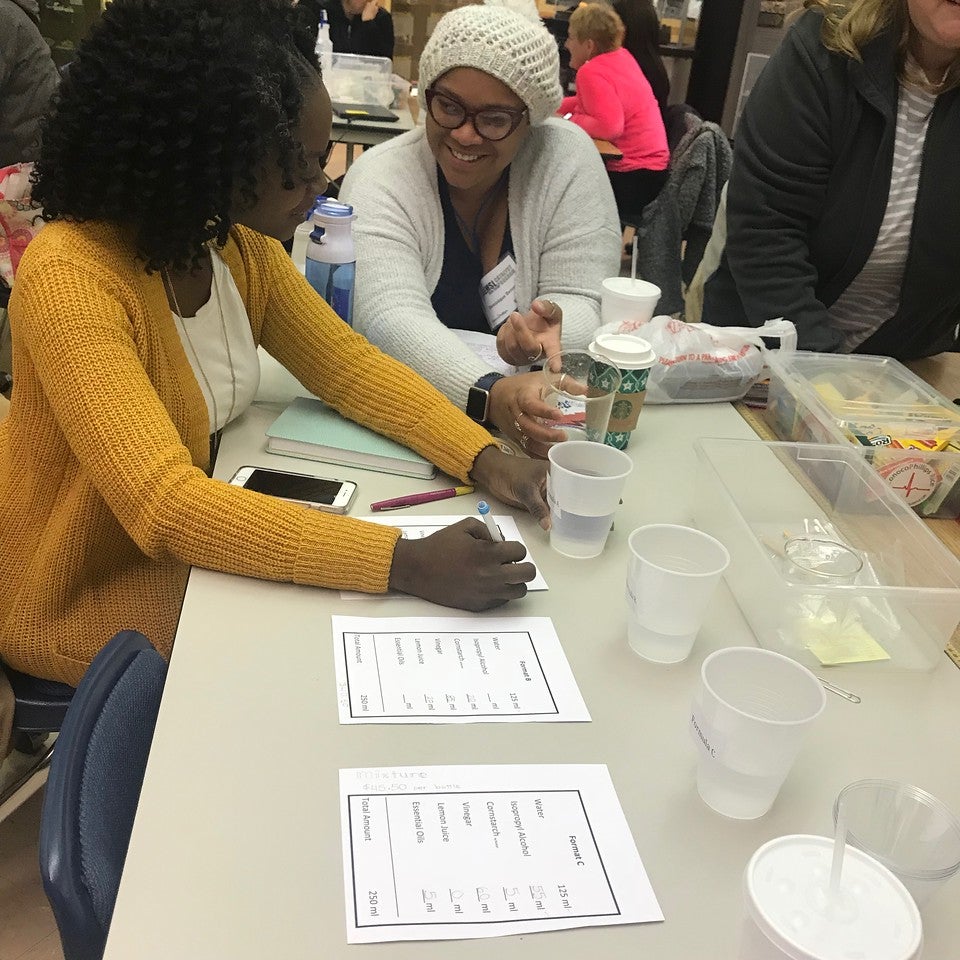 The ConocoPhillips Rice Elementary Model STEM Lab (REMSL) is a year-long professional development program designed for 3rd–5th grade science teachers, instructional coaches, and science lab teachers at elementary campuses throughout the Houston area. REMSL includes two-parts: a summer institute and a series of school year sessions.
The REMSL program aims to improve STEM elementary education by supporting local teachers through a well-established professional development model that focuses on: improving STEM knowledge as aligned with the TEKS; developing mastery in inquiry learning and pedagogy; relaying research-based, best practices in elementary STEM education; and supporting leadership development.
---
REMSL Benefits
With support from ConocoPhillips, the REMSL program equips teachers with TEKS aligned professional development to help deepen teacher knowledge of STEM content. Teacher participants receive classroom teaching materials to support teaching physical sciences and earth/space and life sciences. Teachers additionally receive a variety of innovative pedagogical techniques and leadership training that supports long-term professional growth. The REMSL program also provides professional literature, stipends, and off-site visits, which includes a visit to Rice University to explore cross-curricular connections in science and mathematics.
Before REMSL I was a math teacher who also taught science... REMSL has given me the knowledge on how to teach the material and present it in a way that is engaging and hands on.
---
2022–2023 REMSL Program*
Participation in REMSL includes attending the summer institute and school year sessions. Program dates and other program expectations are listed below.
Applications are closed
The application deadline was May 31, 2022. All forms were due by this date.
Summer Institute

Participants are required to attend the week-long summer institute from July 25–July 29, 2022.

School Year Sessions

Participants can choose evening classes on either Tuesday or Thursday for their 2022-2023 school year training.

REMSL PM
Date and Time: 20 Thursdays from 4:30 p.m. - 7:30 p.m..
Location: Spring Branch Science Center, 8856 Westview Drive, Houston, TX 77055

Applications

Please note: At this time we do not know whether we will be able to hold our program in person. In the event that we are unable to have our participants on site, we are prepared to offer a virtual program with remote participants.

We may contact qualified candidates before the application closes and offer them a spot. Previous REMSL participants and teachers that do not meet the criteria of the program will be placed on a waitlist. Once program reaches capacity, future applicants will also be placed on a wait list.

Applicants will be required to submit a signed Principal and Participant Agreement Letter (PPAL) with their application. By signing the form, the applicant's principal agrees to let the applicant participate during the 2022 summer and during the 2022–2023 school year. By completing the application, the applicant agrees to participate during the 2022 summer and during the 2022–2023 school year.

If you are unable to upload the form to your application, you can, email them to stem@rice.edu.

Benefits & Expectations

The expectations of REMSL participants include, but are not limited to:

Attending and participating in all training sessions (summer session & school year);
Participating in and completing group projects;
Timely completion and submission of all pre- and post-tests; and
Timely completion and submission of all course assignments and homework.

For completing all program requirements, participants will receive:

Over 100 hours of sustained and supported professional development;
$400 stipend upon program completion;
$600 in STEM materials for your campus;
Individualized campus support; and
Opportunities for field experiences and attending lectures at Rice University.

Program Flyer

Below is copy of the REMSL flyer. You can access a PDF version for download here.
---
REMSL Administration
If you have any questions about REMSL, you can contact the program leads.
Ericka Lawton, M.S.
Associate Director for Educational Leadership and STEM Initiatives
713-348-6274 | esl1@rice.edu

Isaias Cerda
Associate Director for Science Education and English Language Learners
713-348-3197 | ic19@rice.edu
*Program times, dates, locations, and compensation subject to change before the first day of the program.
---