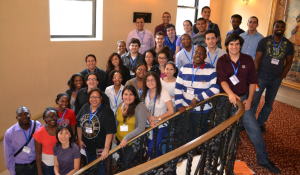 Long dedicated to the principles of diversity, Rice University has made significant progress in attracting faculty, staff, and students from ever more diverse backgrounds, and, perhaps even more importantly, in promoting a culture of inclusivity. As President David W. Leebron has stated, "The diversity reflected in our campus community contributes varied points of view, skill sets, interests, cultures and experiences to the rich life of the university, which helps make it an ideal place to work and learn. As a community, we have worked to foster an atmosphere of civility and open dialogue, where various traditions and different perspectives contribute to the pursuit of knowledge" (David W. Leebron, "Rice Community Values," e-mail to Rice Campus Community, Oct. 16, 2008).
Office of Diversity and Inclusion
Rice University has a dedicated office and support system to foster diversity and inclusivity. Led by Dr. Roland B. Smith, Associate Provost and Adjunct Professor of Sociology and past president of the American Association of Blacks in Higher Education, the Office of Diversity and Inclusion coordinates all diversity-related functions on campus.  The office seeks to support and guide the university community in fulfilling its mission of "cultivating a diverse community of learning and discovery" by facilitating a campus environment that promotes diversity, inclusion, and academic achievement through active engagement with all areas of campus life.
Council on Diversity and Inclusion
Working under the aegis of the Office of Diversity and Inclusion, the Council on Diversity and Inclusion comprises a core team of representatives from 11 working groups across campus:
Campus Climate Assessment
Multicultural Undergraduate Life
Graduate Studies and Life
International Students and Scholars
Faculty Recruitment and Retention
Faculty Research
Gender and Sexuality
EEO/Affirmative Action
Disability Support Services
Multicultural Community Relations
Alumni Affairs
With the Council's input, Rice has developed a wide range of resources designed to foster diversity and inclusivity and to ensure that the university maintains a lively and robust intellectual environment:
University outreach, pipeline, and minority student recruitment programs
Among the university's many outreach and pipeline programs specifically focused on nurturing diversity and inclusion, two in particular stand out. The first is the Mellon Mays Undergraduate Fellowship Program, which prepares under-represented students for graduate study leading to the PhD. The second is the Richard Tapia Center for Excellence and Equity, whose goal is to increase the number of Hispanics, African Americans, Native Americans, and women in science, technology, engineering, and math, and to promote leadership development. To help accomplish this goal, the Tapia Center has established a wide array of programs for both students and faculty across campus. Among these programs are the Rice Empowering Leadership Alliance (ELA-Rice), the ELA-Rice Faculty Mentoring Program, the Rice Alliance for Graduate Education and the Professoriate (AGEP) program, and XSEDE Scholars. Rice also strives to recruit talented students to its graduate programs. To this end, Rice's Dean of Graduate and Postdoctoral Studies, numerous faculty members, and other university representatives regularly attend minority recruiting events such as the Annual Biomedical Research Conference for Minority Students (ABRCMS) and meetings of the Society for Advancement of Chicanos/Hispanics and Native Americans in Science (SACNAS).
Office of Disability Support Services
To ensure that everyone can fully participate in university life, the Office of Disability Support Services (DSS) provides accommodations and professional support services to students, faculty, staff, and visitors with disabilities, following the guiding principles set forth by the Association on Higher Education and Disability (AHEAD). The Office's mission is to provide service that is accessible to all, accepting of differences, inclusive of diversity, respectful of needs, and knowledgeable in implementation. To this end, DSS assists in obtaining and filing disability-related documents; certifying eligibility for services; helping to determine reasonable accommodations; developing plans for the provision of accommodations for students, faculty, staff, and visitors; and, finally, advising the university on the implementation of the Americans with Disabilities Act of 1990, the ADA Amendments Act of 2008, and Section 504 of the Rehabilitation Act of 1973.
Accountability and success
To ensure that the university's diversity and inclusion efforts are effective, CODI works with the Office of Institutional Research and the Office of Institutional Effectiveness to collect and analyze data related to campus climate and inclusiveness. Rice's success in diversity recruitment and retention is clear: Minority enrollment in graduate programs has risen from 5% to 9.51% from 2005 to 2013. The number of advanced degrees awarded to minority students has increased from 6.76% in 2005 to 13.87% in 2013.
Sources: 
Office of Diversity and Inclusion, https://diversity.rice.edu
Office of Disability Resource Center (DRC), https://drc.rice.edu.
Last updated:  December 2017.