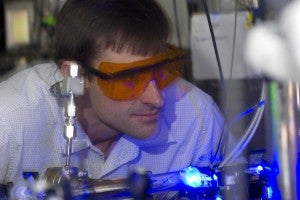 As today's researchers in science, engineering, and medicine seek to address ever more complex problems, they require access to an increasingly robust research infrastructure.  Recognizing this critical need, Rice established the Shared Equipment Authority (SEA) in 2001 as a way to provide its faculty superb experimental facilities, research equipment, and support services at an affordable cost.  
The SEA's management structure is an innovative one.  The Authority is governed by an active group of faculty who are committed to the principles of shared infrastructure and fiscal responsibility. These faculty oversee and manage more than 110 pieces of highly sophisticated research equipment, develop administrative policies governing the operation of this equipment, and set schedules and fees for use of it.
Rice's research infrastructure includes the following categories of shared equipment:
X-ray diffraction
Optical microscopy
Electron microscopy
Scanning probe microscopy
Optical spectroscopy
Flow cytometry and cell sorting
Nuclear magnetic resonance
Mass spectrometry
Thermal analysis
Clean room class 100/1000
Micro/nano fabrication
To ensure maximum and fair use of the shared equipment, the SEA created a flexible framework so that both Rice researchers and their many colleagues in the Texas Medical Center and in Houston's larger academic and commercial research and development community may easily access and use this equipment.  A welcome result has been the development of new and productive collaborations among researchers across multiple disciplines and institutions. 
SEA employs a team of 16 full-time professional scientific staff members, most of whom are Ph.D. holders, who run and maintain the equipment, set and enforce safety procedures, educate and train users, and provide research assistance.  Each instrument is also overseen by at least one faculty volunteer, who works with the professional staff to respond to user needs and alert the SEA of any instrument changes or needs.
Instrument scheduling and access control are handled by a browser-based facility online management (FOM) system. The same system is capable of limiting access to instruments only to those who have passed a training course and been approved for use by the instrument's manager.  Appropriate fees are determined and charged based on the costs for operating, maintaining, and repairing the instruments. Usage statistics, as well as operation and staffing costs for all instruments, are reported at monthly board meetings by SEA's full-time accountant, and reviewed on at least an annual basis to update operation fees for each instrument.
The SEA's effectiveness and efficiency in managing Rice's shared equipment has been nationally recognized.  The National Research Council has pointed to Rice's SEA as a model for midsize research universities seeking to maintain and grow their shared instrumentation (NRC, Midsize Facilities:  The Infrastructure for Materials Research, National Academies Press, 2006, pp. 53-56).  Today, the SEA continues to maintain the high standards and exemplary service that led to this recognition.
Source:  SEA, https://research.rice.edu/sea/.
Last updated:  July 2021.