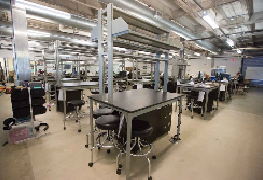 Rice's School of Engineering strives to ensure that its students have a significant design experience as part of their education.  The Oshman Engineering Design Kitchen (OEDK) makes this possible.  It provides a space for undergraduate engineering students to design, prototype, and deploy solutions to real-world engineering challenges, many of which are civic-oriented and have the potential to impact both domestic and international communities.  Indeed, students work together in interdisciplinary teams to tackle problems proposed that have been posed by a wide variety of industries — among them health, energy and sustainability, and robotics — and an equally wide range of partners, including many in the Texas Medical Center.
The OEDK is a 20,000-square-foot space, which includes not only the central work area with more than 75 work tables, but also conference rooms, a classroom, a wet lab, rapid prototyping equipment, large format printers, designated woodworking area, a machine shop, and access to a welding shop.  The OEDK has revolutionized engineering education at Rice by providing a collaborative hub where engineering students at all levels can tackle authentic, or "real-world," design challenges.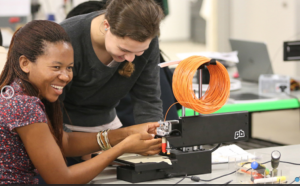 Students are provided resources to work on interdisciplinary design teams to develop solutions to real challenges faced locally or abroad.   They engage in all phases of the design process, from prototyping novel technologies, to presenting their work to corporate and community partners, to testing their inventions in the field.  The curricular model is built on Rice's strengths:  the university's relatively small size, the high quality of Rice students and professors, and Rice's knack for interdisciplinary collaboration.  OEDK also leverages powerful partnerships with the Rice 360° Institute for Global Health Technologies and the Rice Center for Engineering Leadership. This model has generated excellent results. The OEDK reduces the barriers for students and provides them with collaborative and creative spaces, along with prototyping resources, to foster their engineering design ideas.
Source:  http://oedk.rice.edu/what.
Last updated:  December 2017.