The Rice Office of STEM Engagement (R-STEM) serves as a single point of contact for all science, technology, engineering, and mathematics (STEM) related outreach and education efforts at Rice University.  In collaboration with the Office of the Vice President for Research, R-STEM facilitates interdisciplinary collaborations between Rice's faculty and students and the K-12 educational community that integrate authentic research and pedagogical practices.  In collaboration with the Office of the Vice Provost for Research, R-STEM assists faculty in responding effectively to the "broader impacts" requirements of governmental funding agencies.  We also support the education and outreach efforts of several university centers, including the NSF Engineering Research Centers for NanoEnabled Water Treatment (NEWT) and for Precise Advanced Technologies and Health Systems for Underserved Populations (PATHS-UP).
Programs for undergraduate students
R-STEM supports undergraduate students through the NSF Nanotechnology Research Experience for Undergraduates with a program.  These 10-week paid summer internships provide authentic research experience for community college students in engineering and science disciplines,  especially to those in chemistry, biology, physics, bioengineering, chemical engineering, environmental engineering, and electrical engineering.  During the program, undergraduates work on independent research projects in a Rice lab, then present their work at a conference at the end of the summer.
In addition, R-STEM is teaching Rice University undergraduates about STEM outreach in a 3-credit fall course, LEAD 238:  STEM Outreach:  Introduction to Civic Science.  Rice students will learn how to effectively engage students in STEM through hands-on activities, and will then apply this knowledge by teaching fourth-grade students approximately 6-8 times during the semester.
Programs for K-12 teachers
R-STEM supports K-12 teachers through long-term professional development programs in inquiry-based STEM.  These  programs provide teachers with fresh, updated content knowledge and train them in innovative pedagogical approaches through nine graduate-credit day and evening courses.
The ConocoPhillips-Rice Elementary Model STEM Lab (REMSL), which is located in a public elementary school, provides 75 to 110  3rd- to 5th-grade teachers with intensive inquiry-based professional development.  Similarly, the ConocoPhillips-Rice Applied Math Program (AMP) delivers both content and pedagogical knowledge to 8th-grade math and science teachers, as well as biology and algebra I teachers, who participate in teams representing their schools, then share the knowledge they have gained through the program with other math and science teachers at their schools.
The REMSL Catalyst program provides graduates of REMSL an opportunity to deepen their understanding of STEM topics through a series of engineering design challenges. The NanoEnvironmental Engineering for Teachers (NEET) program is a course designed to serve AP environmental science teachers and empower them in implementing rigorous project-based engineering activities on the topic of water sustainability in the classroom that are infused with research from Rice's NSF Engineering Research Center for Nano Enabled Water Technology (NEWT) research. The Rice Excellence in Mathematics Instruction (REMI) program, for 6th- to 8th-grade Algebra I teachers, focuses on algebraic and proportional reasoning content. This program is partnered with the Rice Excellence in Middle School Science (REMSci) program, bringing 6th-to 8th-grade science teachers together to dive deeper into specific content. The Computer Science Teaching at Rice (CSTaR) program seeks to expand the pipeline of teachers qualified to provide high-impact instruction in computer science courses by supporting development of content knowledge and stimulating desire to teach such courses.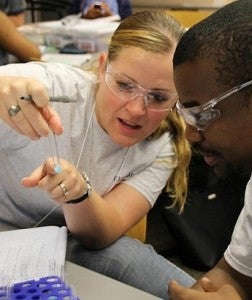 The Rice Excellence in Secondary Science Teaching (RESST) program provides approximately 75 high school science teachers with professional development in biology, physics, and chemistry, and augments this instruction with information on current research topics in nanotechnology, biotechnology, and environmental engineering. Participation enables teachers to enhance their content knowledge, and gives them an opportunity to use Rice University teaching laboratories, visit research labs, attend lectures by Rice faculty, and learn about new developments in pedagogy and research on how students learn biology, physics, and chemistry.
The NSF Nanotechnology Research Experience for Teachers program offers high school science teachers a six-week summer internship in Rice's nanotechnology research laboratories and NEWT research labs at the University of El Paso and Arizona State University, where teachers can reinforce their understanding and appreciation of science as a process, observe and actively participate in research, develop inquiry-based lesson plans that apply Rice research, learn how to use media and other strategies to bring laboratory experiences to students, and network with fellow science teachers.
Finally, R-STEM offers Workshops on a wide-ranging selection of topics, among them cell structure and function, DNA structure and function, transcription and translation, and gene expression and epigenetics, as well as the behavior of light and optics and the atomic structure and the periodic table.
Programs for K-12 students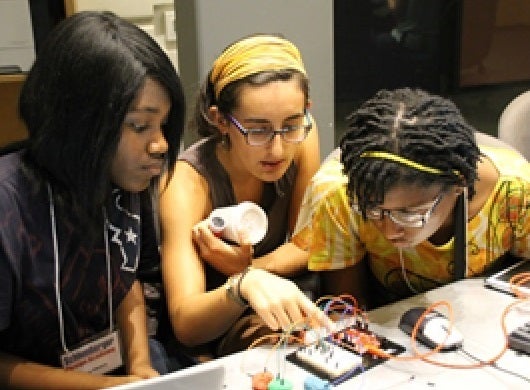 R-STEM offers a variety of summer and year-long enrichment programs, which vary by year.
STEM-Letics Academy is a week-long summer program for third- to fifth-grade students to explore STEM topics in both the classroom and on the playing field.
The Computer Engineering Design Academy for Middle School Girls brings 30 young women to Rice for two weeks, with the goal of inspiring them to envision themselves as scientists and engineers by introducing them to hands-on design experiences that connect science, technology, engineering, and math to tangible, real-life applications using new and exciting technology.  Program participants learn computer-aided design (CAD) programming and create three-dimensional objects using rapid prototyping on a 3D printer.
The Energy Explorations Academy brings 8th- and 9th-grade students to Rice for a week to learn about all types of energy, including fossil fuels (chemical energy) and alternative energy (such as fuel cells, solar cells).  Participants go on three field trips and have an opportunity to explore seismic data.
Design, Connect, Create Physics Academy for Young Women (DCC) is a two-week camp designed for girls to be taken the summer before they enter physics in the fall at their high schools. This immersive hands-on experience investigates physics concepts and helps students to form a deep understanding and build confidence to move forward in science.
The Rice Institute for Dynamics Research (RIDR) is a six-week program for four current 11th-grade students to shadow graduate students and postdocs in their engineering research at Rice University.  Students assist with experiments and learn more about mechanical engineering;  they also experience cross-cultural collaboration through this work.
The R-STEM STEMFab Academy is designed to provide a basic understanding of rapid prototyping, computer programming, and computer design to 30 high school migrant students from the greater Houston area.
The NSF Solar Academy for High School Students is a two-week summer program for 11th and 12th grade students to explore our current understanding of the center of our solar system, the sun, through group-based activities using facilities on Rice's campus.
Through the NSF NEWT Center, R-STEM brings rising 11th- to 12th-grade students interested in engineering and science disciplines, especially environmental engineering) to Rice to participate in a full-day, six-week paid laboratory internship.
Finally, the Maker Meet-ups program brings K-12 students to the Rice campus to teach them how to build and create using new technologies.  In addition, R-STEM offers Campus Lab Tours to K-12 students so that they can see the 3D visualization lab, wet labs, and engineering labs.
Assistance for faculty and researchers with "broader impacts" projects
R-STEM helps faculty develop their ideas for "broader impacts" projects and see how these projects might fit into existing, well-established programs.  To this end, R-STEM facilitates collaborations between the Rice scientific community and K-12 teachers, schools, and/or school districts.  Specifically, R-STEM helps faculty identify potential K-12 education and outreach partners, market K-12 outreach programs to teachers and students, and recruit and select participants.  In addition, R-STEM coordinates research and laboratory safety training for all program participants before their active involvement in research at Rice, helps faculty select the appropriate survey instruments and tests to assess the success of their K-12 education and outreach programs, and prepares quantitative and qualitative program evaluations and formative and summative program reports.
Source:   Rice University Office of STEM Engagement (http://www.rstem.rice.edu/).
Last updated:  December 2017.