The Rice University Office of STEM Engagement (R-STEM) in Houston, Texas earmarked the spring of 2020 with the landfall of the novel coronavirus disease (COVID-19). The rippling effects of the COVID-19 pandemic temporarily shuttered teaching facilities across the U.S. and forced educators to pivot from in-person classes to online learning, and in some cases hybrid-teaching models, for the remainder of the 2019-2020 school year. Notwithstanding the hurdling impacts of the pandemic, R-STEM joined educators in an unprecedented challenge to find effective and innovative ways to keep doing what they do best…teach.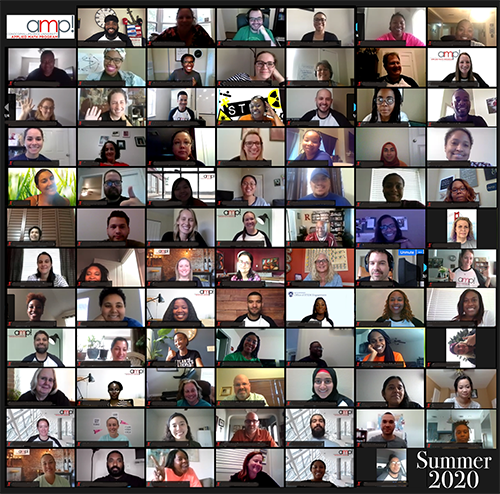 R-STEM is an educational hub and part of The Office of Research at Rice University that serves as a catalyst to support and promote science, technology, engineering, and math (STEM) education. It delivers 22 educational programs to K-12 teachers and students in 34 school districts throughout the Greater Houston and surrounding areas. Each year, an estimated 250 teachers participate in its professional development offerings, and about 726 students enroll in R-STEM summer programs. "A lot of time goes into planning a variety of educational programs, everything from curriculum development, lesson plans, schedules, materials, and assignments," said Matthew Cushing, Executive Director of the Rice Office of STEM Engagement. "The obstacles presented by COVID-19 were not something anyone could have anticipated." Moving its instructional components to a virtual landscape was complex, and with spring programs already underway, Cushing noted "there was not much time to strategize teaching everything online."
The Rice Office of Information Technology helped R-STEM rapidly transition all of its spring and summer in-person instruction to an online platform with the aid of a virtual toolbox comprised of Zoom, Canvas, Google JamBoard, Padlet, Flipgrid, laptop cameras, light devices, and more to create a life-like classroom experience for participants. "Our online programs have expanded our reach and helped make STEM education more accessible to more people, wherever they may be," said Cushing.
Within weeks of scaling up online operations, generous contributions from donors and the National Science Foundation (NSF) helped R-STEM deploy new programs, too. New and online this summer was the Rice Emerson App Challenge Academy (REACh), sponsored by Emerson Automation Solutions-Actuation Technologies. REACh introduced 7th–9th grade students to coding through Code.org, a nonprofit that is focused on expanding access to computer science and gaining interest from young women and underrepresented groups. Students in REACh used Code.org to create functional apps related to STEM and COVID-19.
Also new, was the introduction of the Summer Web-Based Institute for Technologies in CompSci and Healthcare (SWITCH) Research Experience for Teachers (RET) program, sponsored by The Precise Advanced Technologies and Health Systems for Underserved Populations (PATHS-UP) Engineering Research Center and funded by NSF. SWITCH, a free five-week virtual research program for computer science, technology and programming, served as an alternative to R-STEM's legacy in-person PATHS-UP/Expeditions in Computing RET internship program. Teachers who took part in SWITCH's machine-learning experience applied Python programming to process and track a human iris via live-feed video.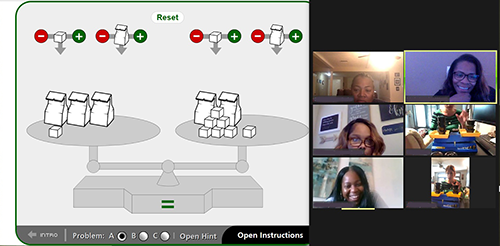 The ConocoPhillips Applied Mathematics Program (AMP!), sponsored by ConocoPhillips, delivers intensive professional development for science and math teachers in the Houston area. It too, made a leap into the virtual space this summer. Transitioning AMP!'s evening classes to a distance-learning platform for the entire school year did not affect teachers' interest in AMP!, nor did it lower enrollment. A cohort of 93 math and science teachers enrolled into the inquiry-based learning experience that kicked off with an annual AMP! Summer Institute in June. The four-day institute immersed middle and high school teachers in science and mathematics inquiry topics, lessons, and best practices for virtual instruction. Allen Antoine, lead instructor for AMP! and Associate Director of Mathematics and Computer Science for R-STEM, exclaimed that "even though AMP! is online, attendance and retention rates have never been better!" Antoine reported lots of positive feedback from AMP! teachers, and hopes to continue to help transform the trajectory of STEM education through online learning.
Janeth Salgado, a sixth grade teacher in the Houston Independent School District (HISD) said AMP!'s online program gave her "the confidence to implement better and engaging lessons virtually." Students benefit from teacher experiences in AMP! by what could best be described as the 'AMP! effect.' Cormean Thomas, a YesPrep teacher and member of the 2020-2021 AMP! cohort, explained AMP! as a program that "teaches you how to facilitate lessons in a way that is most beneficial to kids, while offering engaging and thought-provoking activities. It allows them to take control of their learning, have fun while learning, and embed information into their brains in such a way that they will be more likely to retain and apply it to real life situations."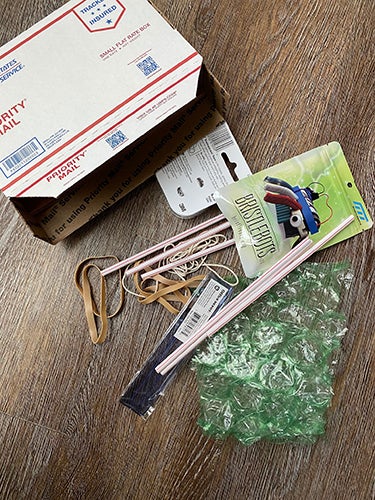 Like AMP!, many of R-STEM's programs, such as the Houston location for the Design Connect Create Physics Camps for Young Women (DCC), and the Texas Leadership Initiative for Inquiry Science Teaching (TLIIST), involve activities that require tangible materials. Supplies for AMP!, DCC, and TLIIST included things that could be shipped to allow for experiments and labs in an at-home setting. Enlisted to teach and rearchitect the two-week DCC camp was Robert Beaird, Assistant Teaching Professor of Physics and Astronomy at Rice University. Eighteen young women from HISD received at-home supplies for activities that helped them prepare for their first high school physics course. Beaird pointed out that teaching physics online presents its own challenges— it can lack the 'aha moments' born of students' exploring concepts through hands-on group activities, and an online environment can make it laborious for participants to share their realizations with peers and instructors. Nonetheless, he reaffirmed that the need for STEM education has never been more important, as is the critical role teachers hold in today's digital age.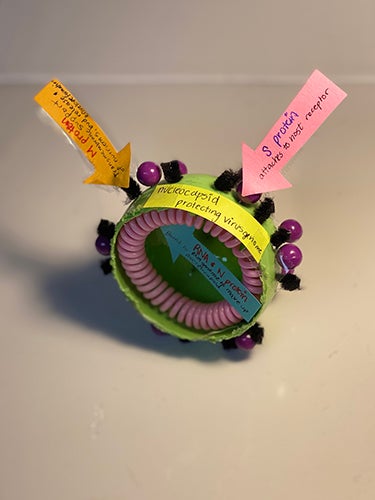 With M&Ms, Skittles and paper plates mailed to their homes, twenty TLIIST fellows completed a biology unit on Zoom entitled, "Can Miley Cyrus Catch the Coronavirus?" Yousif Shamoo, Vice Provost for Research at Rice University and Professor of Biosciences and Bioengineering, co-instructed the class with Christina Crawford, R-STEM Associate Director for Science and Engineering. The fellows were introduced to Universal Design for Learning strategies, best online teaching practices, and case studies. The fellows also created models of COVID-19 viruses using household items to demonstrate how a virus's structure is essential for evading specific cells in humans.
TLIIST aims to develop and recognize Master Teaching Fellows (MTFs) as science leaders at their campuses, in their districts, and throughout Texas with support from the NSF Robert Noyce Teacher Scholarship Program. "Biology units like this help conceptualize creative ways to transfer lessons into the classroom while developing MTFs," shared Ericka Lawton, R-STEM Associate Director for Educational Leadership and STEM Initiatives. TLIIST is funded by the NSF and partnerships with R-STEM, HISD, the University of Houston, Houston Community College, and the Science Teachers Association of Texas.
While R-STEM programs remain virtual for now, Carolyn Nichol, Director of the Rice Office of STEM Engagement and Assistant Research Professor of Chemistry, said the educator community is still "very vibrant" and requires the delivery of purposeful curriculum paired with high-caliber instruction, and the ability to integrate innovative technologies.
While not everything in R-STEM's 'virtual toolbox' is new, many teachers and students are using online tools for the first time. "I love how R-STEM is involved in today's digital learning exchange." Nichol further added, "Whether online or in the physical space, if we are going to create a future roadmap for students to be successful, it's going to take a multidisciplinary approach that involves government and school district leaders, educators, advocates, volunteers, and many more to broaden the greater impacts of STEM education and make it an integral part of K–12 education."
With the aid of virtual tools at hand, instructors at the Rice Office of STEM Engagement are teaching and mentoring 156 teachers participating in online professional development programs this fall. More R-STEM program offerings will be opening online soon to further broaden participation in STEM learning.
R-STEM continues to closely monitor and follow guidelines provided by Rice University, the City of Houston, and the Centers for Disease Control and Prevention. The STEM catalyst hopes to resume in-person instruction in the future, and continues to explore educational tools and provide resources to support teachers and students during this unprecedented time. More program information is available by contacting the Rice Office of STEM Engagement or by visiting the website at research.rice.edu/rstem.